If you have an existing WordPress website on your root domain and want to create a subdomain to connect to Groove, then this article is for you.
For example, on AimeeVo.com – I have a WordPress website on the root domain.
I want to keep this WordPress website in tact and just create a subdomain like:
get.aimeevo.com for GroovePages
members.aimeevo.com for GrooveMember
blog.aimeevo.com for GrooveBlog etc
This involves creating a Cloudflare account, adding C name records for GroovePages, GrooveMember and GrooveBlog in order for SSL to be enabled.
Let's dive right in.
Connect A Subdomain To Groove Via Cloudflare Tutorial Update
I recommend watching the video below first as it will walk you through step by step of what's involved.
It's a bit technical and is best explained on video however feel free to follow along with the text version below.
1. Add Your Subdomain To Groove.cm
Login to your Groove account
Head to my account > domains > custom domains and click on "Manage"
Click "Add Domain button"
In step 1: choose "Legacy Domain Setup" (This is for existing website with important content on it that cannot be overwritten. This will protect current domains and subdomains and will allow you to add on additional subdomain)
Note: For enabling SSL on subdomains, you need to use either Cloudflare or purchase SSL certificate through Groove.
Which means before you move to step 2 of the legacy domain setup, you'll need to create a Cloudflare account.
Cloudflare will allow you to enable SSL on your subdomain and this means all future DNS records will need to be added on Cloudflare.
Signing up to Cloudflare is self explanatory – just go through the sign up process, verify your account and login.
2. Login to Cloudflare
Once you're logged in to Cloudflare, click "add a domain"
Enter in your domain: yourdomain.com(the whole domain name)
Scroll down and select the "free plan" on the bottom, click "continue"
Cloudflare will scan all your DNS records from your hosting provider and click continue
You will be given instructions to login to your domain registry and remove your existing name servers from your hosting provider and replace it with the 2 name servers provided by Cloudflare
My domain registry is with Porkbun however yours could be on Godaddy, Namecheap etc. Login to your domain registry and replace it with Groove's name servers.
Cloudflare will provide configuration recommendations:

enable always use https
enable auto minify
click "back to overview"

Now it may a few hours for Cloudflare's name servers to propagate so while you're waiting, head to step 2 of Groove custom domain setup
3. Step 2 Onwards Of Groove Legacy Domain Setup
In step 2: under "Which domain would you like to add?"

Enter in your domain name i.e. yourdomain.com – the full URL (not subdomain)

In step 3: Connect your custom domain to Groove by adding a txt record to your DNS manager. Since you updated your name servers to Cloudflare, your DNS manager is now Cloudflare:

copy the txt value given to you by Groove as per the image below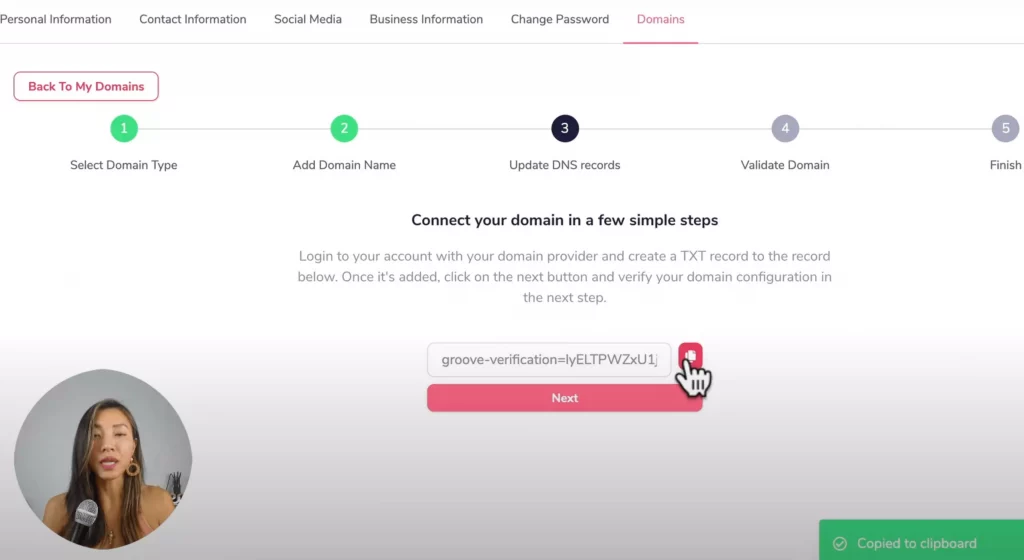 Head back into Cloudflare and click on the "DNS" tab

Add a txt record
name: enter in @
TTL: leave at auto
content: paste in txt record groove-verification=exxxxxxx
Press Save

Head back to Groove legacy domain setup, Click "next"
In Step 4: You will see "Domain Added Successfully" and click on "Complete Process"
Now you want to click on the "home button" icon and set the primary app as GroovePages
Once you set GroovePages as the main app, GroovePages icon will be activated with a color and underline.
Create A Subdomain & Connect GroovePages
Click on Groovepages icon and the pencil icon:

Click on + button to add a subdomain
For example, you want a subdomain name of "get" to build out landing pages and funnels on GroovePages
type in "get" and click on the check button
There will be a note to create a c name record pointed to host10.groovepages.com
To create the c name record, head back into Cloudflare and click on the "DNS: tab
Add a c name record:

Select c name
name: get
TTL: leave at auto
target: host10.groovepages.com
Leave proxy status enabled (orange cloud color)
Press save
Click on "Overview" tab on Cloudflare to see if Groove's name servers have been propagated.
If you see "Great news! Cloudflare is now protecting your site" – that means your SSL is now enabled on your GroovePages Subdomain.
Head to your GroovePages site, under the "Publish" pink button, select the following:

In hosting options: select "custom domain"
Domain: select your root domain
Location: select "subdomain"
Subdomain: your subdomain name will appear for seletion
Click on the cloud icon to publish the entire site
You're Done!
Please watch the remaining video tutorial from timestamp 07:29 on what to do when you have Cloudflare enable through your existing hosting provider.
Plus how to connect and publish a subdomain on GrooveMember and GrooveBlog.
It's the same process of adding a c name however the value provided by Groove will be different for GrooveMember and GrooveBlog.
Create Stunning Funnels That Sell Like Crazy?
After you connected and published your domain, it's time to start building out your landing pages and sales funnels on GroovePages.
If you want to create stunning funnels that sell like crazy, I recommend writing great copy with relevant CUSTOM graphics.
In this day and age, people don't read long blocks of copy.
They're skimming and only stop scrolling when they see a compelling image.
You NEED unique custom 3d mockups, book covers, lead magnet images, online course mockups and funnel graphics to make your sales page convert.
I've always struggled with design and could not justify hiring expensive graphic designers.
Not anymore.
The banner below was created WITHOUT any design skills and under 60 seconds.
Just point-and-click, drag-and-drop, then export!
Click the banner to learn how you can create stunning 3D digital product mockups and sales funnel graphics without any design skills.