If you're just getting started with GroovePages OR haven't touched GroovePages for a while and need a refresher…
Then this video is for you!
In this GroovePages tutorial for beginners, I'm going to give you:
A complete walk through of GroovePages
The core foundations of using GroovePages
Plus so tips and tricks that will save you heaps of time!
GroovePages has gone through at least 10 updates throughout 2021 and many features have been relocated to different areas of the dashboard in 2022.
Now, this video is intense, so I've included timestamps to EVERY section within the video below:
GroovePages Templates
00:00 – Intro from Aimee
00:22 – Free Groove Training & Bonuses From Aimee
01:06 – Creating a new site & GroovePages Templates
GroovePages Global Site Settings
02:31 – Global Site Settings
02:59 – Changing Favicon and uploading images
03:41 – Global font settings for entire site
04:06 – Global Custom CSS
04:25 – Where to add Google Analytics, Google Tag Manager & Ad Tracking tags or pixels
05:19 – Global Open Graph settings: OG Image and OG Title
05:56 – That little pink check icon you need to click to SAVE changes!
GroovePages Export Site & GrooveFunnels ShareFunnel Link
06:09 – Exporting your GroovePages site's HTML files
06:30 – How to revert your website to a previous version
06:58 – How to generate a sharefunnel link for your website or funnel
07:35 – GroovePages Instant Edit bookmarklet
GroovePages Page Settings & Editing Pages
07:53 – Page settings and editing pages
08:14 – Editing Page name, URL, Page title, keywords and meta description
09:50 – Exit page by confirmation toggle option
10:09 – Setting default font for a specific page
10:22 – Where to add CSS to a specific page
10:33 – Where to add advertising conversion codes for specific pages like thankyou pages
10:52 – Open Graph settings for specific pages
11:05 – Setting Specific pages as Home page
11:29 – Renaming Pages in GroovePages
11:40 – Cloning Pages & Deleting Pages
Saving a Page As A GroovePages Template
12:05 – Saving Page as a Template
12:20 – How to access your Saved Page templates
12:41 – Hiding pages from menu navigation
14:00 – Importing pages from a existing website or page from funnel builders like ClickFunnels or Kartra
Create Stunning Funnels WITHOUT Any Design Skills
If you want to create stunning funnels that sell like crazy, I recommend writing great copy with relevant CUSTOM graphics.
In this day and age, people don't read long blocks of copy.
They're skimming and only stop scrolling when they see a compelling image.
You NEED unique custom 3d mockups, book covers, lead magnet images, online course mockups and funnel graphics to make your sales page convert.
I've always struggled with design and could not justify hiring expensive graphic designers.
Not anymore.
The banner below was created WITHOUT any design skills and under 60 seconds.
Just point-and-click, drag-and-drop, then export!
Click the banner to learn how you can create stunning 3D digital product mockups and sales funnel graphics without any design skills.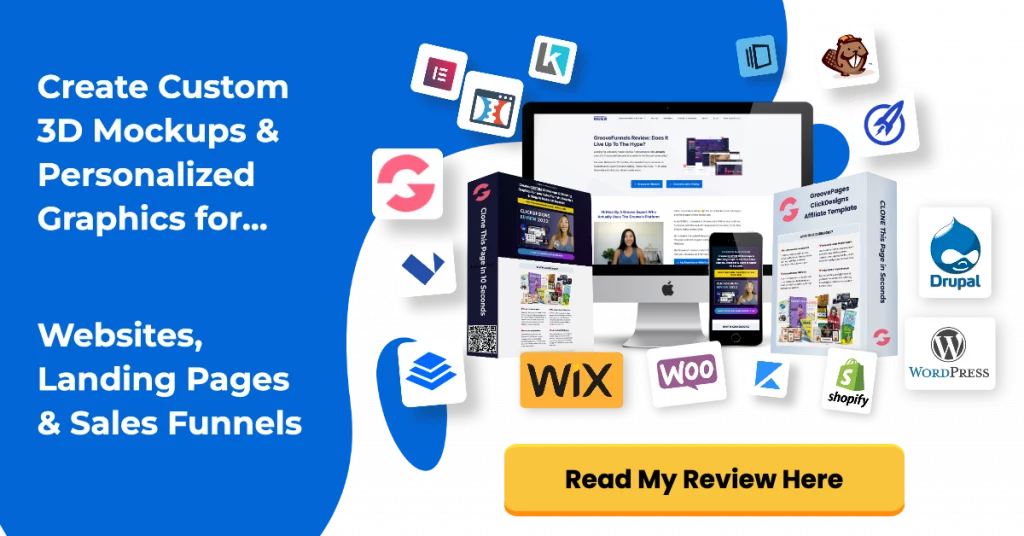 GroovePages Funnels Tab
14:40 – Moving Pages To Funnels tab
16:28 – Funnels tab – how it works
GroovePages Webinars Tab
17:59 – Webinars tab – how it works
GroovePages Heirarchy
21:38 – MUST WATCH: GroovePages Hierarchy and breadcrumbs
GroovePages Block Types
18:50 – The 3 Block types available in GroovePages
20:35 – How to use Blocks in GroovePages
21:27 – Moving Blocks in GroovePages
23:26 – Saving a block as a Template for re-use
24:12 – Adding additional columns to an existing block
24:40 – Cloning and deleting blocks
24:54 – Changing Block Background (Color, Image & Video)
GroovePages Elements & Styling
26:47 – ELEMENTS
27:12 – Adding Text Elements (Editing Font type, weight, color)
29:16 – Creating two font colors in one sentence
29:40 – Uploading Images, update image size & centre align image
31:25 – Adding Buttons, changing button color and CTA label
32:50 – Adding GrooveVideo element & how to configure it
33:26 – Adding GrooveMail element & how to configure it
35:26 – Adjusting Column Gutter Width
36:21 – Container Size (Narrow Width)
36:21 – How to move elements up and down
Creating a Popup In GroovePages
37:55 – Creating a popup with sign up form
🔗 Link to Groove ActiveCampaign to style forms: https://youtu.be/9qpXmz2VhJo4
GroovePages Integrations
0:53 – Adding 3rd party integrations like email marketing & zapier
Mobile Responsive Design In GroovePages
41:38 – Responsive Mobile Design
🔗 Link to my previous mobile design tutorial that is still relevant: https://youtu.be/C9tTzB-6kX0
Connecting & Publishing Custom Domain To Groove
42:46 – 🔗 Link to publishing brand new custom domain to Groove: https://youtu.be/CY4zdlVZvWU
43:00 – 🔗 Link to publishing a subdomain when you're on WordPress: https://youtu.be/E8xY33Xyip8
GroovePages Tutorials Videos To Watch Next
43:20 – 🔗 Link to 20 GroovePages tips and tricks: https://youtu.be/C5t0hab1aic (see pinned comment for video updates) 🔗 Link to How to create a high converting option page on GroovePages: https://youtu.be/IIxdKu-lEt8