Groove Affiliate Program Summary
Groovefunnels affiliate program is a high paying affiliate program with lifetime cookies that pays up to 40% affiliate commission.
Groovefunnels affiliate program is suitable for existing Groove customers and individuals wanting to work from home.
Commission rate:
20% and up to 40% depending on the plan you're on. See here for more details.
Eligibility & Application Process:
It's free to join and anyone can be a Groove Affiliate. There's no application required.
Joining Groove's Affiliate Program
To join Groove's affiliate program, create a FREE Groove account here first, and you'll automatically be enrolled in Groove's affiliate program.
It's as simple as providing your name, email and your login details will be emailed to you.
With your free account, you're able to test drive the apps and know it's features and functionality.
Groove is a massive system so please take the time learning the apps before you start promoting the platform.
Groove Affiliate Commission Rate
Groove's affiliate commission rate varies depending on the plan you're signed up to.
Pricing Plan
1st Tier
Commission
2nd Tier
Commission
LITE Plan (FREE)
20%
NO
START UP Plan
20%
NO
CREATOR Plan
30%
NO
PRO Plan
40%
NO
PREMIUM Plan
40%
10%
PREMIUM+ LIFETIME Plan
40%
10%
If you're on the F

ree Plan

and want to promote Groove, you will earn 20%

commission on 1st tier sales. There are NO 2nd tier affiliate commissions available on the free plan.
When you upgrade to the Premium Plans, you will earn 40% commission and 10% on 2nd tier commissions.
What are 2nd Tier Affiliate Commissions?
Groove pays you an additional 10% in second tier affiliate commissions, IF the people who signed up under you ALSO promotes Groove.
One thing to note here is that this doesn't mean that your referrals receive 10% less, they will receive their full 20%, 30% or 40% affiliate commission so everyone wins.
Whilst it may look like a MLM, your downline only goes to the 2nd level and it stops there.
This allows you to build a team and earn passive income if your team chooses to promote Groove's affiliate program as well.
How Much Can You Earn?
At the time of writing, Groove has several payment plans with varying commission rates.
Let's say you're on the PRO Plan, your commission rate will be 40%.
If someone signs up through your link and decides to purchase the CREATOR plan, they are given two pricing options:
Current Price: $149 per month (when paid monthly)
Special Offer Price: $83.00 per month (when paid annually – upfront cost of $996)
If they opt to pay monthly, you will earn $59.60 per month (40% of $149) until they decide to cancel.
If they opt to pay annually, you will earn $398 per sale (40% of $996).
To see all Groove's payment plans and your earning potential, see my Groove pricing page here.
Groove Affiliate Earnings Potential
Many affiliates have made tens of thousands from the Groove's affiliate program.

I personally have made six figures from GrooveFunnels affiliate program, using various strategies like SEO, Youtube, paid traffic and social media.
But the earnings potential is HUGE now that Groove has switched to monthly and annual payment plans.
If you have 100 people on the PRO Plan subscription, that's $7960 per month in passive income.
Let's do some quick numbers and forecast your earnings potential on the PRO Plan.
To keep it simple, I won't include 2nd tier commissions.
PRO Plan Comms Rate
25 Subscriptions
50 Subscriptions
100 Subscriptions
40%
25 x $79.6 = $1990
income per month
40 x $79.6 = $3980
income per month
100 x $79.6 = $7960
income per month
However let's be real here, you can't put out your affiliate link online and expect instant sales.
Making money from Groove's Affiliate program is definitely possible but it also require consistent time and effort.
You're either creating content, running ads, and nurturing your free sign ups through an email campaign.
Keep reading to learn more about my affiliate marketing framework below.
How To Find Your GrooveFunnels Affiliate Links
Login to your

Groovefunnels

account
Click on the "Groove Affiliate Program" button on the top of the dashboard: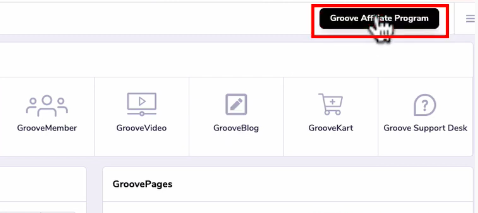 You'll see a video from Mike Filsaime explaining how the program works
Scroll down under Promo Tools and click on "Links":
You will see all your promotional links that direct people to different promotional pages:
There's also a bunch of affiliate tools you can use like seeing your statistics, email swipes, blog reviews, articles banner ads, social media ads and more: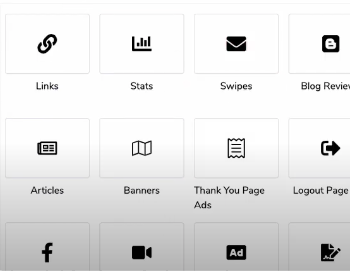 GrooveAffiliate App Dashboard
My preference is to use the GrooveAffiliate App to arrive at the affiliate dashboard:
Make sure under "View", you're on the Affiliate view (not vendor view)
Click on "Promos" tab and you have the same tools available like links and promo tools
Adding Bonuses To GrooveFunnels Affiliate Program
In "Promos" tab again, click on the present icon as per the image below
This is where you'll be able to add bonuses when someone signs up to their free Groovefunnels account or lifetime account.
Now I made a training where I show you how to add bonuses in GrooveAffiliate and it's available within your bonus training.
What I also like in the GrooveAffiliate view is when you click on "Reporting" and click on "Transactions"
You can click on date and select "All time" and you'll see details of who signed up to through your affiliate link with first name, how much they paid as well as their email.
If you go back to "Reporting" and click on "Sub Affiliates", this will give you a snapshot of your downline – so how many people who signed up to your account but also promoted the affiliate program.
How Do You Get Paid on GrooveFunnels Affiliate Program?
Make sure you're still in the GrooveAffiliate app, click on "Settings"
Under "General", this is where you can change your username
Under "Payment", this is where you can enter your PayPal account or click on "Wire" to enter your bank account details for affiliate payouts.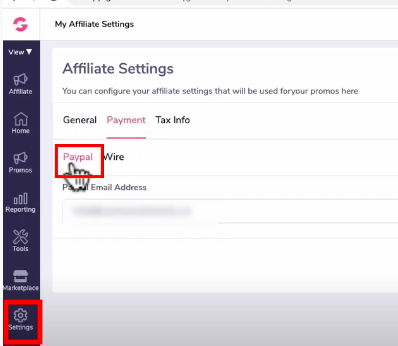 When

Do You Get Paid on GrooveFunnels Affiliate Program?
Here's how Groove's affiliate payment schedule works:
Groove pays out their affiliates on a monthly basis
Your commissions are released 37-42 days AFTER a sale is made
There's a 37-47 day buffer period for Groove to handle any potential refunds
Once this period is passed, you can expect your commissions to be paid
TIP: Use the "Reporting" tab in GrooveAffiliate app and select the timeframe to determine the date of sale and add 37-42 days to get an estimate date of when you will be paid.
NOTE: Groove pays their affiliates manually so if you're not receiving your commissions on time, contact their support and help ticket.
Groove Affiliate Assist
What this means is let's say someone signed up to their free account through YOUR link, if that person upgrades to a paid account through SOMEONE else's link…
Because the other affiliate helped closed the sale, the affiliate commission is split 50/50.
How To Promote GrooveFunnels Affiliate Program
The first thing you must do is read Groove's affiliate terms and conditions.
This is important because it tells you which promotional methods are accepted.
For example, you can't use any negative keywords like "scam" in your reviews.
However you can bid on branded keywords if you choose to run Bing or Google Ads.
Now everyone will have their own preference of promoting Groovefunnels.
I've seen people successfully promote Groove like:
Making Youtube videos
Search Engine Optimization
Starting a Facebook Group
Driving traffic through social Media
Running Ads on FB, Instagram, Google Ads, Youtube Ads, Bing Ads
and the list goes on and on…
Since there are so many affiliate marketing courses out there, one person will be telling you to use one specific strategy and another person will tell you something else.
Here's what you should consider:
If you have money but not enough time: you can use paid ads to test but you must have an ad budget available and be willing to lose money before a campaign becomes profitable.
If you don't have money but you have time: use organic strategies like SEO, posting on social media. This process is long and tedious and doesn't always get results.
I don't have a specific marketing strategy but have had great success with Youtube marketing and SEO – however it is a process that requires time and dedication.
What I like to do is to give you an Affiliate marketing framework so that you can decide what works best for you.
Groove Affiliate Marketing Framework
Here's how my Groove affiliate marketing framework works:
1.USE: Use the Groove apps, get familiar with what each app can and cannot do. If you don't know what you're selling and how to use it, how can you possibly help answer people's questions?
2. WHO: Who do you want to serve? Determine the target audience that will benefit from Groove's platform – are they local businesses, agencies, coaches, network marketers, eCommerce store owners etc.
Everyone is promoting groove as marketing platform but you can increase your chances of success by creating content and messaging for specific target audience.
3. PROBLEMS & SOLUTIONS: Once you know your target audience, create a list of their problems and challenges and ask yourself:
"How can the Groove Platform help them solve these problems?"
You can find these problems on Facebook groups and YouTube comments etc.
READ these comments, it's a gold mine because people will literally TELL you their needs and challenges (and use it in your content and landing page copy).
4. WHERE: Where is your target audience hanging out? Meaning… which traffic platforms is your target audience on that you are most comfortable using or have experience using.
Examples of WHERE:
Facebook – You like being on Facebook so connect with people in FB Groups or build your own Facebook Group
Youtube – You like watching Youtube videos so make educational tutorials on using a specific Groove app like GroovePages. And NO… you don't need a good webcam, you can use loom.com to record a screen share with your affiliate link to sign up to Groove.
Instagram or Pinterest – You're great at graphic design so use canva.com to design images and post to Instagram or pin to Pinterest.
Know yourself deeply
If you're not a social person and introverted, then you may not like networking on Facebook.
Choose a platform that suits your personality and your skill set.
Start off with one platform and commit to it for at least 6 months, don't spread yourself thin by being everywhere when you're a one man/woman operation.
The more you understand that traffic platform and it's nuances, the easier it is for you to test out new ideas, hooks and angles.
5. HOOK / ANGLE: Once you know where your target audience is hanging out online, the next step is crafting a hook or angle to attract your target audience.
Ask yourself if this hook or angle something that will help my target audience solve their problems?
If it is, create content on it and share it with that target audience.
6. RESULT: Once you have your target audience's attention with the hook or angle, what RESULTS can they achieve with Groove?
For example, one of the problems with Shopify is buying all these apps and the monthly fees to run a online store adds up. GrooveKart has a bunch of in-built free app they can use without added monthly fees.
You're solving the problem of paying large monthly fees when they can save the cost of running an online store by switching to GrooveKart.
Join Groove's affiliate program using the below button and you'll receive bonus training from me.
GrooveFunnels Affiliate Program by Aimee Vo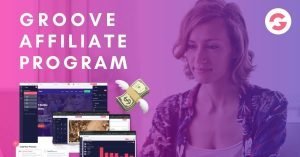 GrooveFunnels Affiliate program is worth promoting if you're looking for work from home income. Affiliate commissions range from 20% to 40% of the sale purchase depending on paid plan you're sign up to.
Price: 0.00
Price Currency: $
Operating System: Web
Application Category: SaaS