GrooveMember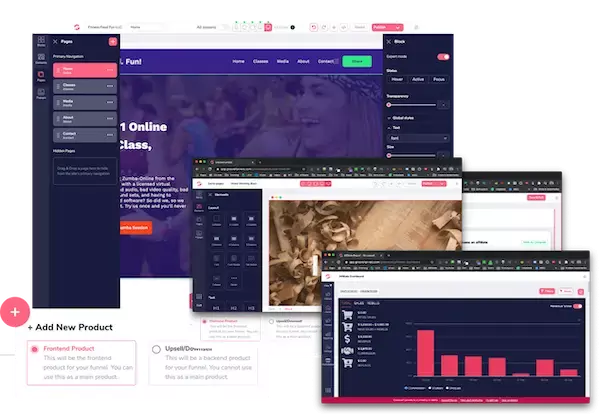 GrooveMember is a membership site and hosting platform that allows you to create and host digital products, online courses and membership sites.
Create mobile responsive membership sites
Create content at various tiers or levels
Drip out content on set dates
FREE plan: 1 membership site and add up to 100 members or students
GrooveMember Review 2021
A lot has changed since I've started using GrooveMember….
It went from extremely buggy to working smoothly and now mobile responsive.
A year ago I would have not even tried to transfer my existing courses over to GrooveMember.
Now all my courses are hosted on GrooveMember.
The reason?
GrooveMember integrates with other apps within the Groove.cm platform and helps you automate processes in your online business.
Let's get into it.
GrooveMember Features
With GrooveMember, you can create, host and sell your online courses or membership subscriptions easily.
Deliver full courses with modules, lessons or categories and sub-categories formats.
GrooveMember has many features, let me walk you through how you can create a free membership site.
1. Membership Setup Wizard
When you create a new membership site, there's a setup wizard that guides you through 6 steps in creating a course or membership.
The 6 steps are as follows:
Basic info: Course or Membership site details
Design: Add instructor details and customize your membership area with your logo and a featured image
Builder: The builder is where you add content for your course lessons
Comments: Enable or disable comments for each lesson and set approval of comments
Access level: Configure your membership access levels or tiers
Welcome: Send a default welcome email to your members with their access credentials
Finish: Your membership site setup is complete

2. Instructor Setup
You can set up as many instructors as you like for each of your membership sites.
Simply enter in the instructor name, description and upload the instructor image.

3. Logo & Featured Image
Upload your logo: Recommended image size: 170px X 70px
Upload your course featured image: Recommended image size: 350px X 200px
4. Membership Builder
Customize each lesson further with drag and drop elements like buttons, text, images and embed videos from Vimeo, YouTube or use GrooveVideo to host your private content.
Upload pdf files and various media assets in your membership site for members to easily access.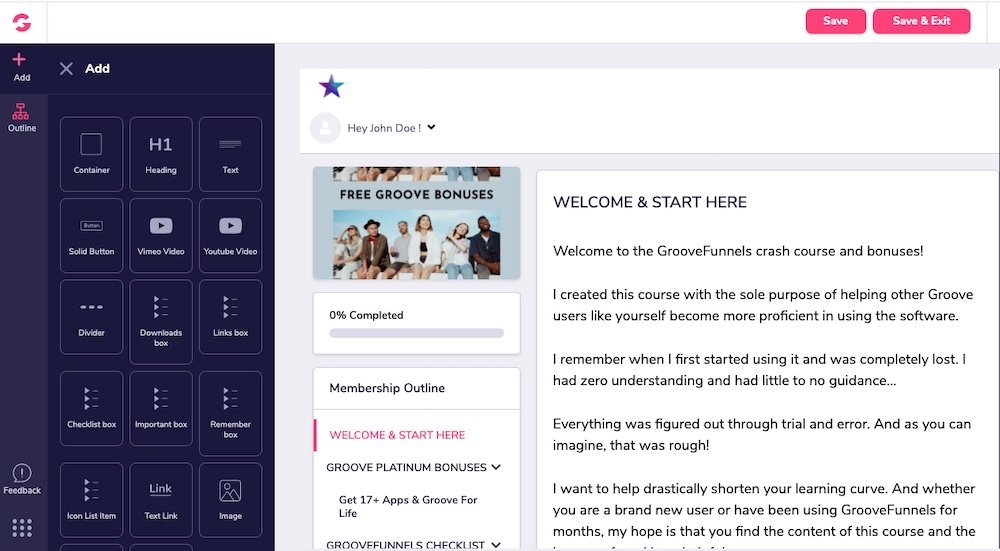 5. Access Levels & Unlock Content
You can create multiple membership tiers, each with different content or courses and at price points with a secure login portal.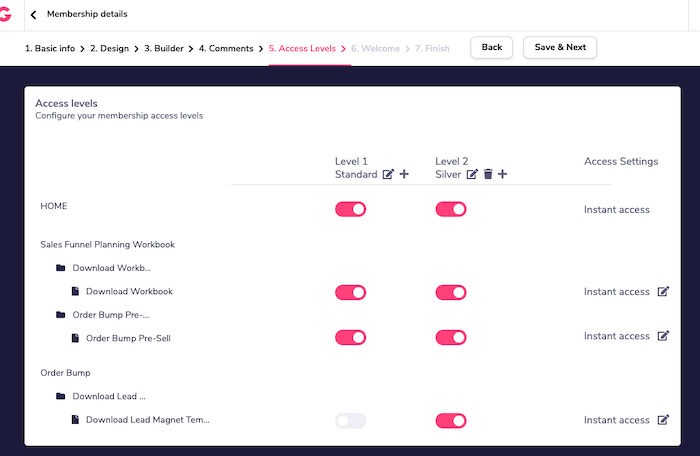 Give students and members instant access to your content
Drip feed content post after a specified number of days
or alternatively give access to lessons after a certain date.
6. Add New Members & Disable Access
If you set up a course and would like to provide access to some students for free, you can add them as a member easily.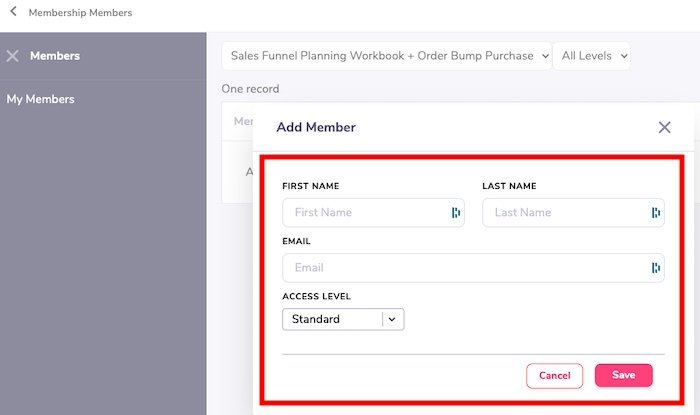 7. Mobile Responsive
For the longest time, GrooveMember wasn't responsive.
As of 6th of April 2021, GrooveMember is now mobile responsive making it easy for your students to learn on the go.
Here's a peak of my own GrooveMember website:

8. Members Analytics
For now you can see how far along your students have progressed with course content however advanced analytics is coming soon.

Is GrooveMember Worth It?
YES and NO as the platform is in BETA and there are more developments to be expected.
Reasons for YES:
On the lifetime plan, you can create UNLIMITED GrooveMember sites i.e. unlimited courses. Saving you thousands of dollars in yearly savings for LIFE!
Free account users can test drive the platform by creating 1 free membership site and add up to 100 students.
The platform has all the core features you would expect in a learning management system and membership site software
It is mobile optimized and you can connect your own custom domains to brand your own courses or memberships.
New membership themes coming out in September 2021 with layouts similar to Teachable and Thinkific.
Reasons for NO:
If you need to integrate quizzes or tests within your course, this feature is not available (however members have submitted this as a feature request and it's scheduled to be added)
Extra Bonuses With Your Free GrooveMember Account
✅ GrooveFunnels Quick-Start Training Course: Over 40 step-by-step bite size training that will save you a TONNE of time and frustration when learning a new software!
✅ Sales Funnels Planning Workbook: The PLAYBOOK to build simple yet seriously effective sales funnels that convert leads into sales.
✅ High Converting Opt-in Funnel Templates: Swipe and CLONE my high converting GroovePages funnel in a click of a button.
GrooveMember Frequent Asked Questions
What is the difference between Groove.cm / GrooveFunnels and GrooveMember?
Groove.cm is the parent brand for all the groove apps – GrooveMembers is an app within Groove CRM suite.
Groovemember is their membership hosting platform similar to Kajabi and Thinkific where you can create and host your online courses and memberships.
Since GrooveMember as an app within the Groove CRM platform, please read my Groove CRM lifetime deal review.
What Does I Free GrooveMember Site mean? Is It 1 Course per GrooveMember site or Multiple courses on 1 Portal?
How do I setup GrooveMember for an online course?
Watch my popular GrooveMember Tutorial to see how I set up GrooveMember easily for an online course in this step-by-step tutorial.
NOTE: Even though this is an old GrooveMember tutorial, the steps involved is still the same. All the bugs mentioned in that video has been ironed out and GrooveMembers is now fully functional.
Can I set up an online school portal where people can view all my available courses like Teachable?
Watch my GrooveMember Portal Tutorial and see how I create an online school where your students can see all of your available courses and login with the same username and password.
Can I added quizzes and assessment tests inside of GrooveMember to grade my students?
A lot of members have requested this feature and it's added to the development pipeline.
Can I issue a completion certificate in GrooveMember?
Certificates are not available yet but will be added to the development pipeline.
Does GrooveMember have gamification?
Not at this stage. A lot of members have requested for gamification features similar to that of Xperiencify that builds on 7 powerful psychological triggers. Groove developers are aware of this much requested feature but it is yet to be confirmed of whether they will add it or not.
---
GrooveMember Review by Aimee
A year ago, GrooveMember was really buggy but NOW it's fully functional and mobile responsive. It's improved significantly and it's a definite YES from me. With single sign on, your students don't need multiple passwords to access all their courses. Definitely sign up to the free account and test it out. However the biggest benefit is in Groove's Lifetime deal as you can create UNLIMITED memberships saving you thousands every year in subscription fees.
Price: 0.00
Price Currency: $
Operating System: Web
Application Category: SaaS