What Is GrooveMail?
GrooveMail is an email marketing software that enables businesses to send email campaigns to their subscribers and customers.
You have the ability to create opt-in forms, email broadcasts, newsletters and automations based on user behaviours.
If you're interested in all the apps within the Groove platform, then check out my review here to see how you can run your entire online business.
GrooveMail Features
GrooveMail is an email marketing tool that makes it easy for businesses to create and send email campaigns to their customers.
It is similar to ActiveCampaign, and has many of the same features you would find in most email marketing software.
Here is a list of the main features of GrooveMail and what they do.
1. Opt-in Forms
An opt-in form is a feature commonly used in email marketing that allows individuals to sign up or subscribe to a mailing list.
It is a form that is typically placed on a website or landing page and includes fields for a person to enter their name and email address, and sometimes other information.
The purpose of an opt-in form is to collect contact information from individuals who are interested in receiving email communications from a business or organization.
With a free GrooveMail account, you can create opt-in forms with your own custom fields and embed it on any web page.
GrooveMail forms also integrates seamlessly with GroovePages.
If you're using GroovePages to create a website or landing page, adding a sign-up form from GrooveMail is easy.
You just need to drag a "GrooveMail" element into your page and choose the form you want to use.
2. Manage Email Contacts, Filters & Suppressions
Contacts are your email subscribers or customers who opted in via your GrooveMail forms.
Within the "Contacts" tab, you can view all your contacts, add new contacts and filter them based on:
email lists
tags
forms
subscribed to a segment
subscribed to a sequence
has a specific IP address
Opened a broadcast email
Clicked on a link in a broadcast email
date range
Status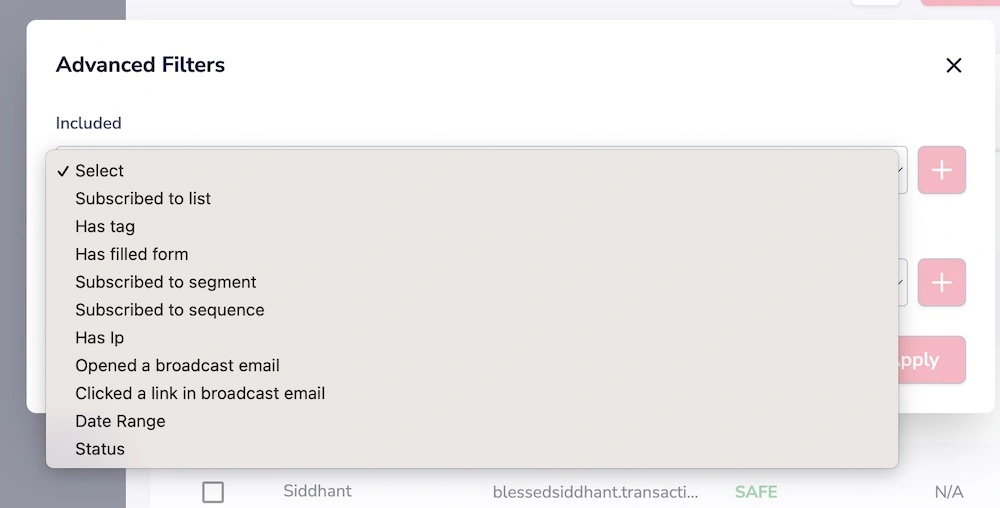 You can also add email contacts to the "Suppression list" to prevent certain individuals or groups from receiving specific email campaigns or communications.
In the "Suppressions" list, you will also see contacts who have unsubscribe or opted to not receive any email communications.
3. Email & Sms Campaigns
GrooveMail allows you to send out email broadcasts or newsletters based on:
contact segments
email lists and
tags.
Send a new broadcast email is easy using their campaign builder:
Enter in the broadcast Name
Broadcast category (select from existing categories or create a new category)
Select which list or segment you want to email to
Write and compose your email message (you can use a professional designed email template or use their email editor)
Send a test email
And hit send!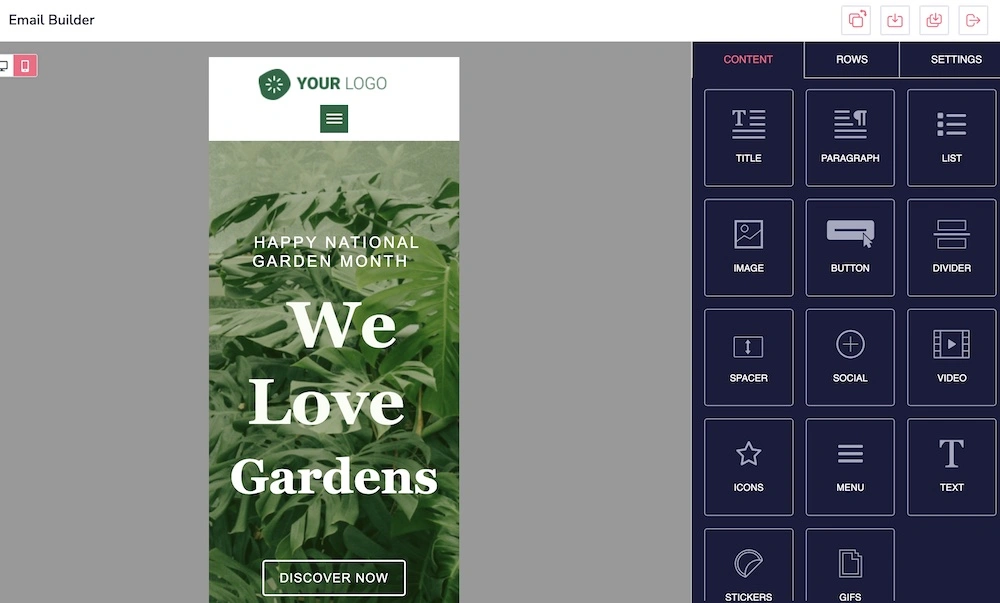 4. Email Lists, Tags & Segments
You can create email lists, tags and tag categories within GrooveMail.
If you have a specific lists for your leads and customers, you want to set up a separate list name for each.
Tags are useful for organizing and categorizing contacts in an email list based on their past purchase behavior, location or other demographic information.
Segments are like dynamic searches where you filter and excludes leads in real time.
Here are the following segment triggers you can put in place
subscribed to a list
has a specific tag
has filled a form
subscribed to sequence
has a specific IP
opened a broadcast
clicked on a link
date range
status
5. Email Sequences
Email sequences are a series of automated email messages that are sent to a specific group of contacts or subscribers over a period of time.
These messages are pre-written and scheduled in advance, and are designed to nurture leads, promote a product or service, or provide valuable information to the recipients
GrooveMail sequences incorporates both email and sms email sequences.
You can trigger an email sequence when someone is tagged, subscribes to a list or opts into a form.
There are time delays of when each email in the sequence should be sent.
6. Conditional Splits
Within email sequences, you can add conditional splits to your email campaign.
Conditional splits allows you to apply certain rules and conditions before they receive the next email in a sequence.
This personalizes the email campaign for that specific contact or customer.
For example, imagine an e-commerce company that wants to send a follow-up email to customers who have abandoned their shopping carts.
Using an email conditional split, the company could set up a rule that sends an email with a special discount code to customers who have abandoned their cart, but not to customers who have completed a purchase.
This way, the company can target only the people who are most likely to complete a purchase and increase their conversion rate.
Another example would be a company that wants to send a different message to the people who have opened an email and another message to the people who haven't.
Using an email conditional split, the company can set up a rule that sends a different email message to the people who opened the previous email, and another message to the people who haven't opened the previous email.
7. Marketing Automation
GrooveMail lets you turn on a host of automations based on your recipients' behaviors.
You can define rules like IF a contact does then THEN do this.
Here's the available IF automations currently available with more coming soon:
lead subscribes to a list
lead unsubscribes from list
lead is assigned a tag
lead fills form
lead subscribers to sequence
Purchased a product (from GrooveSell)
Refunds a product
cancels a subscription
Here's the available THEN automations currently available with more coming soon:
lead subscribes to a list
lead unsubscribes from list
add a tag
remove a tag
subscribe to sequence
unsubscribe from sequence
Add as an affiliate
Refund a purchase (from GrooveSell)
cancels a subscription
add a membership
add to integration (like third party software)
The best part is that GrooveMail is connected to all the Groove apps on the platform so there will be more IF and THEN automations added soon.
8. Email Analytics
Currently email analytics is only available for Broadcasts campaigns.
You're able to view the following data:
email opens
email clicks
Unsubscribers from specific broadcast
Recipients sent
Email that failed to be sent
Status of your email: Draft or sent
Analytics of email sequences and automation is yet to be added.
GrooveMail Pros & Cons
Pros:
In your FREE GrooveFunnels Account you can add up to 500 contacts
Create as many "from sender emails" or alias as you want for multiple website
Use tags to segment your email list or use tags to fire off marketing automations
Create various marketing automations to other groove apps like GrooveMember & GrooveSell
Send out email broadcasts instantly or schedule at a future date
Create email autoresponders when someone opt-ins to a specific form or create an automation to fire off an email sequence
Trigger a person to be added to GrooveMember when they opt-in to a specific form
Add custom fields in your forms that go beyond first name and email
Get Analytics on your leads, email list and broadcasts
Cons:
Free Groove members will need to add their own SMTP
Limited detailed analytics
GrooveMail Bonuses
✅ GrooveFunnels Quick-Start Training Course: Over 40+ step-by-step bite size training that will save you a TONNE of time and frustration on GrooveFunnels.
✅ Sales Funnels Planning Workbook: The PLAYBOOK to build simple yet seriously effective sales funnels that convert leads into sales.
✅ High Converting Opt-in Funnel Templates: Swipe and CLONE my high converting GroovePages funnel in a click of a button.
Sign up using the link below and you'll automatically receive the login details to access your extra bonuses bonuses.
GrooveMail Frequent Asked Questions
How Much Does GrooveMail Cost?
If you've secured your free account with GrooveFunnels, you can use GrooveMail at no cost and build an email list of up to 500 contacts.
If you purchased the premium+ lifetime deal, you're getting more premium email marketing features, professional email templates, eliminate monthly recurring expenses and can build an email list of up to 50,000 contacts.
How Many Sender Emails Can I Add On GrooveMail?
In your free account, you can add one sender ID email however in their paid plans, you can add unlimited email IDs.
How Many Contacts Can I Add On GrooveMail?
500 email contacts on the free version and up to 50,000 contacts on the premium plans.
How Many Emails Can I Send per Month On GrooveMail?
Free account users will be able to send 5000 emails per month.
Paid users can send unlimited emails per month.
Can I Import my Existing Email list in GrooveMail?
Free members don't have that feature however paid user can import their email contacts via CSV file.
Can I use Gmail as a verified Sender on GrooveMail?
No you can't. You will need to setup a business branded domain email like [email protected]
Do I still Need Hosting for Emails?
Yes, GrooveMail does not provide you with a free email address. You will need to have separate email hosting for your own branded domain email address.
Check out this video on how to setup a free business domain email on Zoho by Aimee.
I have my Domain On Cloudflare, How Do I Make Sure It Works With GrooveMail
Ensure that you have added MX records into Cloudflare pointed to your email hosting provider. Do not add your MX records on Groove's name servers.
Want To Increase Sales Funnels Conversions?
I recommend writing great copy with relevant CUSTOM graphics on your sales page.
In this day and age, people don't read long blocks of copy.
They're usually skimming and only stop scrolling when they see a compelling image.
You NEED unique custom 3d mockups, book covers, lead magnet images, online course mockups and funnel graphics to make your sales page convert.
I've always struggled with design and could not justify hiring expensive graphic designers.
Not anymore.
The banner below was created WITHOUT any design skills and under 60 seconds.
Just point-and-click, drag-and-drop, then export!
Click the banner to learn how you can create stunning 3D digital product mockups and sales funnel graphics without any design skills.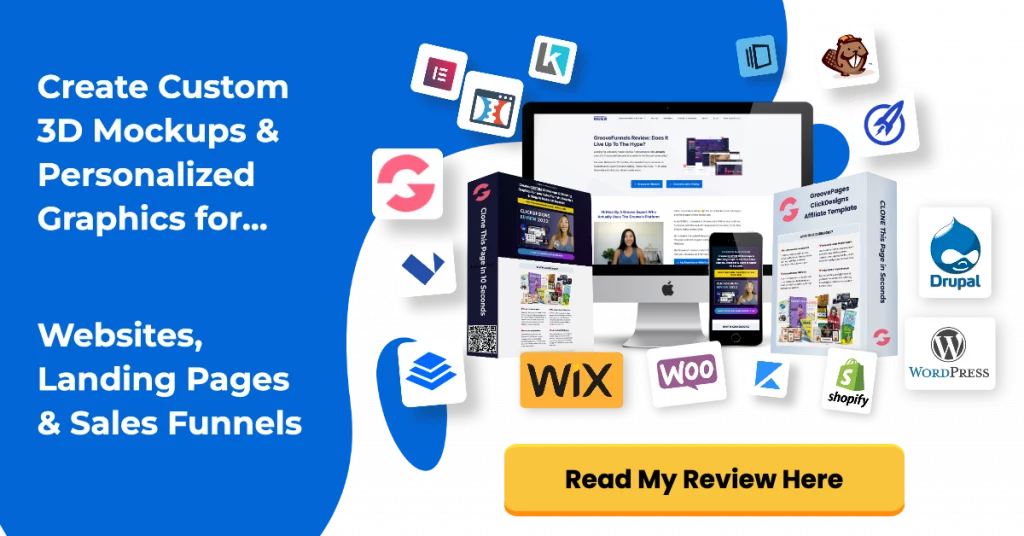 ---
GrooveMail Review Verdict by Aimee
Your Free GrooveFunnels account gives you access to GrooveMail and the ability to add up to 500 contacts - its great for those getting started online. The features you will find in GrooveMail is similar to ActiveCampaign. The power behind GrooveMail is their automations feature which integrates with other Groove apps.
Price: 0.00
Price Currency: $
Operating System: Web
Application Category: SaaS