What Is GroovePages?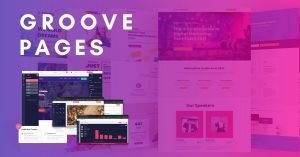 GroovePages is an easy to use website, landing page, and sales funnel builder.
Their drag-an-drop page builder allows you to create stunning websites and sales funnels without any technical skills.
If you want to create beautiful websites and high converting sales funnels, GroovePages can help.
When it comes to generating leads and sales online, building a sales funnel is a necessity.
There are plenty of funnel building tools available online but is GroovePages the right tool for you?
Having used ClickFunnels, LeadPages, Unbounce and other popular funnel builders – this review will cover everything you need to know about GroovePages.
Let's dive right in.
TL;DR GroovePages Review
Don't have time to read the entire article?
I've got you, here are the key takeaways you need to know:
What is GroovePages? — GroovePages is an easy to use website, landing page, and sales funnel builder that loads fast.
Who Created GroovePages? — Mike Filsaime, the founder and CEO of Groove Digital.
GroovePage's Features — GroovePages features is drag and drop editor, free hosting, custom domain integration, free SSL certificate, sharefunnels, countdown timers, progress bars, popups, upsells, down-sells, webinar integration and mobile responsive design.
GroovePage's Pricing — GroovePages is free for up to one custom domain website. You can learn more about their pricing plans here.
Does GroovePages Have an Affiliate Program? — Yes. They pay 20% commission however if you're a paid customer, your commission rate is 40%.
Is GroovePages Better Than ClickFunnels? — If you asked me a year ago, the answer would had been no. Fast forward to March 2022, the answer is now yes – GroovePages is better and more intuitive to use than Clickfunnels. Their pre-designed blocks makes designing websites and funnels a breeze!
If you're interested in learning more about all the apps on the Groove's platform, then check out my review here to get the low down on what's included in their paid plans.
Mike Filsaime & GroovePages
Mike Filsaime, is the co-founder and CEO of Groove Digital, the parent company of GroovePages.
He's the creator of multi-million dollar software companies like Kartra, Webinarjam, and Everwebinar.
GroovePages is better than Kartra but faster with cleaner code and integrated with all the apps on the Groove platform.
Best GroovePages Features
GroovePages comes with many features that are comparable if not better than most of the top website and sales funnels builders online.
Here's a list of the best GroovePages features and a description of each.
1. Drag-And-Drop Editor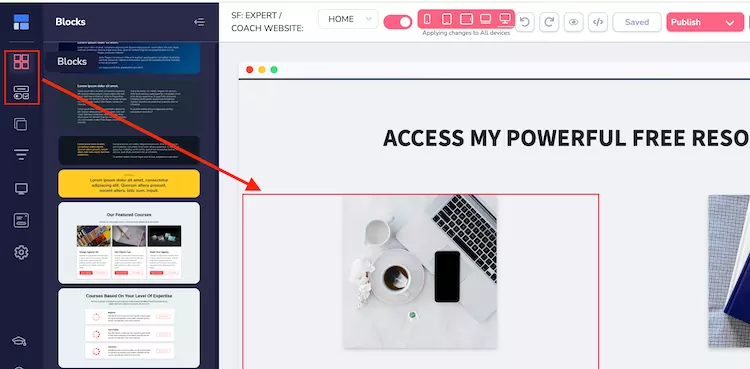 GroovePage's drag-and-drop editor allows you to easily drag in any block or element to edit a website or funnel
Just select the block or element you want to add, drag it onto the page, and drop it wherever you like.
2. Website & Funnel Templates
You can find templates for funnels, complete websites, sales funnels and webinar funnels.
However you can sort templates based on categories and tags:
lead generation

finance
landing page

local business

webinar funnels

eComm funnels

Service

agency

health

and fitness

marketing

insurance
course

consulting

and so much more.
Free account members have access to limited templates whilst Groovefunnels lifetime customers get access to their full gallery of templates.
3. Free Hosting, Custom Domain & SSL Certificate
Free account users can add up to one custom domain and 25 pages for free.
You can host your funnels and websites for free, saving you hundreds of dollars in hosting fees.
SSL (that padlock icon you see in your browser) is automatically added for free.
Unlimited custom domains is only available on the lifetime plan.
Adding your own branded custom domain like yourdomain.com is easy:
Simply add your domain name in Groove
Head to your domain registry and update your nameservers with Groove;s name servers.
Watch my Groove custom domain training video on how to setup your custom domains on GroovePages.
4. Build Out Entire Websites & Funnels In One Dashboard
GroovePages is not limited to landing pages or sales funnels, you can build out an entire website and funnels in one dashboard.
You can re-order menu pages easily by dragging it or you drag any pages you want to hid in the "Hidden pages" section.
Create your funnel pages in the funnel tab to keep your projects organized.
Free account members can build out three websites or sales funnels whilst lifetime users can build unlimited websites and funnels.
Sharing your website or funnels is available for both free and paid users.
You can share your GroovePages website or funnel designs and have another Groove customer import them in a click of a button.
Free account members can share 1 funnel and receive 5 sharefunnels.
Groovefunnels Lifetime users can share and receive unlimited websites and funnels.
6. Website & Funnel WireFrames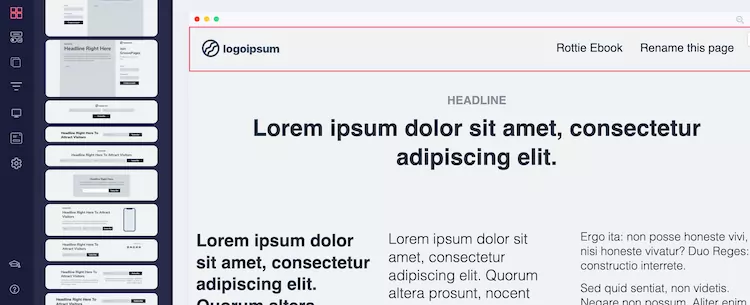 If you're a website designer or funnel builder, you can use GroovePages wireframe blocks to plan the layout of your website.
There are various wireframe blocks for headers, alert bars, checkout forms, content, testimonials, footers and more.
These wireframe blocks have no color or styling, and are great if you want to show your client a website mockup before going ahead with the final design.
7. Designer Blocks
If you're a not a web designer or funnel builder, you can use their designed blocks with formatting and color styling in place
There are various designed blocks for lead magnets, contact forms, checkouts, footters, galleries, menus, headers etc.
You can also save any blocks you've designed for future use.
Free account users have limited designed blocks available.
8. Mobile Responsive Design
You can customize your website's appearance to be responsive across various screen sizes like laptop, tablet and mobile.
Responsive design use to be buggy but they have now fixed it with auto spacing applied across all devices.
Not everyone may want to optimize across all devices but this is necessary if your a website designer and want to increase conversions.
9. 3rd Party Integrations
Currently you can integrate the following email marketing providers to GroovePages: ActiveCampaign, Aweber, Campaign Monitor, WebForm, GetResponse and Mailchimp.
If your email provider is not listed, you can embed your form via html code.
In addition to email marketing services, you integrate and connect zapier, WebinarJam, sendio and more.
GroovePages aims to integrate more third party integrations when they go out of BETA.
GrooveMail forms is already integrated as an element in GroovePages.
10. Create Popups and Light boxes
You can create a popup so that a light box appears or have it popup when a button is clicked on.
There are various ways to configure the popup to appear:
Standard = appears only when they click on an element like a button.
Entry = appears when someone lands on the page.
Exit = appears when someone leaves the page.
You can also customize the popup by adding up element and stylizing it.
11. Countdown Timers & Progress Bars

Countdown timers are great for creating a sense of real-time urgency for your website visitors.
You can configure count down timers to different time zones and have redirect to a certain page, URL and loop the count down timer again.
And progress bars are great for encouraging visitors to move to the next step and make progress.
You can drag in a countdown timer and progress bar element and edit them to stylize them further.
12. Upsells, Down-sells, and Order Bumps
Upsells and order bumps are strategies for increasing the average amount of money people spend with you when they order a product.
Downsells, on the other hand, are great for getting people to buy a less expensive product after they've already said "no" to your primary product.
You can create the upsell and downsell pages in GroovePages, and connect the order payment in GrooveSell.
13. SEO Friendly
GroovePages loads extremely fast and all images are optimized in webp format which is a major ranking factor.
Here are the on-page SEO elements you can perform on GroovePages:
Site name – Include your website name to appear on Google search results.
Favicon – add an icon to represent your website on Google search results.
Page title – add keywords in your page title.
Page URL – add keywords in your page URL.
Meta keywords – add keywords and related keywords tags.
Meta description – add your keywords in the description of your page.
Open Graph – control the title and description of your page for Facebook.
H1, H2, H3 headings are available by dragging in headings text element.
Images optimization – "alt tags" and "alt descriptions" are available for images.
GroovePages Elements
GroovePages has lots of elements you can insert into your website or funnel.
Here are the GroovePages elements available:
Layouts elements: empty containers, 1-5 columns, card headers, tabs sections, collapse heading and text and dividers.
Text elements: H1, H2, H3, H4, H5, H6 headings, paragraphs, title and paragraph, icon + title and paragraph, icon and headings and block quotes elements.
Lists elements: icon list item, image list item and regular list (like bullet points) elements.
Button elements: solid buttons, buttons with icon or a text link element.
Media elements: round image, square image, Youtube video embeds, icons, Vimeo embed, Wistia embed and carousel or images.
Form elements: input labels, input fields, text areas, tick checkbox and submit button for forms.
eCommerce elements: GrooveSell checkouts and checkout embed.
Devices: mockup device frames for desktop, laptop, tablet, phone and watch frames.
Other elements: google maps, code embeds, countdown timers and progress bars.
Navigation bar elements: various menu styles for header or footer menu.
GrooveVideo element: integrates with GrooveVideo hosting and allows you to embed any of your existing videos
GrooveMail form element: integrates with GrooveMail and allows you to embed any of your existing GrooveMail forms.
GrooveWebinar element: integrates with GrooveWebinar to host your automated and live webinars.
GroovePages Pros & Cons
Here's the high level summary of the pros and cons on the Free GroovePages plan:
Pros
Cons
✔ 1 custom domain integration for free plans

✘

It can be buggy when they roll out
new code but it's temporary
✔ Up to 25 pages hosted for free

✔

A good free ClickFunnels alternative

✔

1 share funnel template on Free account
✔ UNLIMITED everything in GroovePages on the

Pro Plan
GroovePages Vs ClickFunnels: Which Is Better?
For a free website creator, sales funnel builder, sales and affiliate management platform – GroovePages packs a punch at zero cost.
I've covered GroovePages Vs ClickFunnels in detail on my Groove.cm review article here.
GroovePages has gone through several updates in the past year and is now a robust website and sales funnel builder.
In 2022, GroovePages is a far superior page builder than Clickfunnels.
GroovePages Pricing
GroovePages is FREE with no strings attached and no credit card required.
There is NO 14 day or 30 day trial where you are forced to upgrade.
Your Free Groove account is FREE for life with one custom domain and hosting.
However you have the option to upgrade to the paid plan where you can get UNLIMITED GroovePages websites and funnels.
GroovePages Lifetime Deal
Previously, GroovePages has a deal where you can get lifetime access to "GroovePages Lifetime" for a one-time payment of $497.
This offer is no longer available and access to unlimited version of GroovePages is on the Pro Plan.
GroovePages Tutorial & Demo
The best way to view a demo of GroovePages is to watch my "GroovePages Tutorial For Beginners"
You'll learn the core foundations of using GroovePages and how to get up and running fast.
When you claim your free Groove account through my link, you'll also receive the following bonuses below.
Create Stunning Funnels That Sell Like Crazy?
I recommend writing great copy with relevant CUSTOM graphics on your landing page or sales page.
In this day and age, people don't read long blocks of copy.
They're skimming and only stop scrolling when they see a compelling image.
You NEED unique custom 3d mockups, book covers, lead magnet images, online course mockups and funnel graphics to make your sales page convert.
I've always struggled with design and could not justify hiring expensive graphic designers.
Not anymore.
The banner below was created WITHOUT any design skills and under 60 seconds.
Just point-and-click, drag-and-drop, then export!
Click the banner to learn how you can create stunning 3D digital product mockups and sales funnel graphics without any design skills.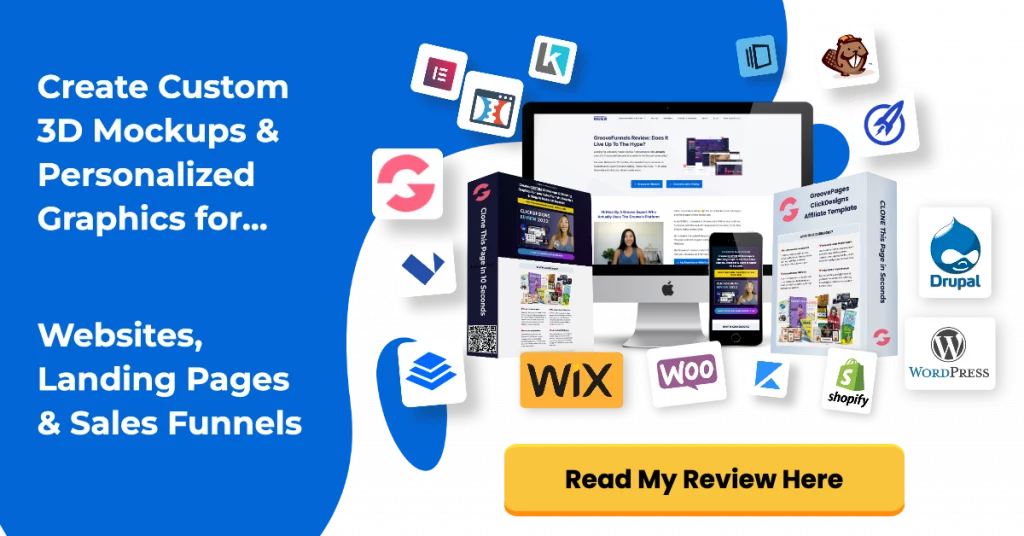 GroovePages Bonuses
✅ GrooveFunnels Quick-Start Training Course: Over 40+ step-by-step bite size training that will save you a TONNE of time and frustration on GrooveFunnels.
✅ Sales Funnels Planning Workbook: The PLAYBOOK to build simple yet seriously effective sales funnels that convert leads into sales.
✅ High Converting Opt-in Funnel Templates: Swipe and CLONE my high converting GroovePages funnel in a click of a button.
Sign up using the link below and you'll automatically receive the login details to access your extra bonuses bonuses.
GroovePages Frequent Asked Questions
What is the difference between Groove.cm / GrooveFunnels vs GroovePages?
Groovefunnels is Groove.cm and is the parent brand for all the groove apps. GroovePages is their website, page and funnel builder similar to Clickfunnels where you can build fully navigable websites and have funnels within one dashboard. Since GroovePages as an app within the Groove.cm platform, check out my review on GrooveFunnels.
Can I transfer my funnels from ClickFunnels and Kartra?
There is the ability to import funnel pages into Groove by using the GroovePages URL importer. This will bring over text, image and color and however you will need to re-style it to make it look like the way you want.
How many domains can I connect to GroovePages?
Are there website design and sales funnel templates available?
Is a free SSL certificate included on GroovePages?
Yes, Free SSL is installed automatically when you connect your custom domain. This is handle by Groove's Cloudflare account however you do not need to open a separate Cloudflare account.
Yes, on the free plan you can only share 1 funnel and import 5 share funnels from others. On the Pro Plan, it's UNLIMITED sharefunnels and receiving share funnels.
What other Groove apps can I use on my Free GroovePages account?
You get access to some NOT all Groove apps on your free account. On GrooveMail, you receive up to 500 contacts for free. On GrooveMember, you can create 1 membership site for free. I recommend checking out this table to see compare the free vs paid plan.
What email marketing services and integrations does GroovePages connect to?
ActiveCampaign, Aweber, CampaignMonitor, WebForm, Everwebinar, GetResponse, GotoWebinar, Leadlovers, Mailchimp, Mautic, Perkizilla, Pipedrive, ProductDyno, Sendiio, WebinarJams and Zapier. You can also use webhooks or embed forms to embed code from other software. More integrations are being added on a regular basis.
My email marketing provider is not listed as an integration on GroovePages?
If you use a email marketing provider that's not listed as an integration – copy your opt-in form code from your email marketing provider and embed it on GroovePages using the "code embed" element. I find that ActiveCampaign to integrate and work well with GroovePages as they are modeling GrooveMail off ActiveCampaign.
Is GroovePages SEO-friendly?
YES, it uses Amazon hosting which has the best servers in the world for fast page loading.
You can perform on-page optimisation on Groovepages. Here are some of the on-page SEO elements you can add:
Site name – Include your website name to appear on Google search result
Favicon – add an icon to represent your website on Google search results
Page title – add a page title with your target keyword
Page URL – enter a page URL with your target keyword
Meta keywords – add target keywords and related keywords to your page
Meta description – add the description of your page with target keyword and related keywords
Open Graph – control the title and description of your page for social media share on platforms Facebook, Twitter, etc
H1, H2, H3 headings are available by dragging in headings text element.
Images optimization – "alt tags" and "alt descriptions," are available when you attach images to page
Can I add Google Tag Manager, Google Analytics, FB Pixels and other tracking codes on GroovePages?
Within your page settings, you can add Google tag manager, Google analytics, FB pixels in the head, body or footer sections – there is a dedicated slot to add this tracking code. You don't need to mess with the raw code.
Is GroovePages better than ClickFunnels?
If you asked me this question last year, the answer would have been no. BUT now, the answer is YES as GroovePages has gone through several updates over the years and is now a robust website and sales funnel builder with so many elements that allow for styling and customization.
Is GroovePages mobile responsive?
Yes, you can design your websites, landing pages and sales funnels across 5 devices. Each one of these devices have responsive selectors that allow you to style each device for pixel perfect resolution.
Can I create popups on GroovePages?
Yes you can create popups for specific pages, entry popups and exit popups on GroovePages
Can I embed videos on GroovePages?
Yes you can embed Vimeo, Youtube videos or GrooveVideos on GroovePages. You can upload up to 5 videos on your Free GroovePages account.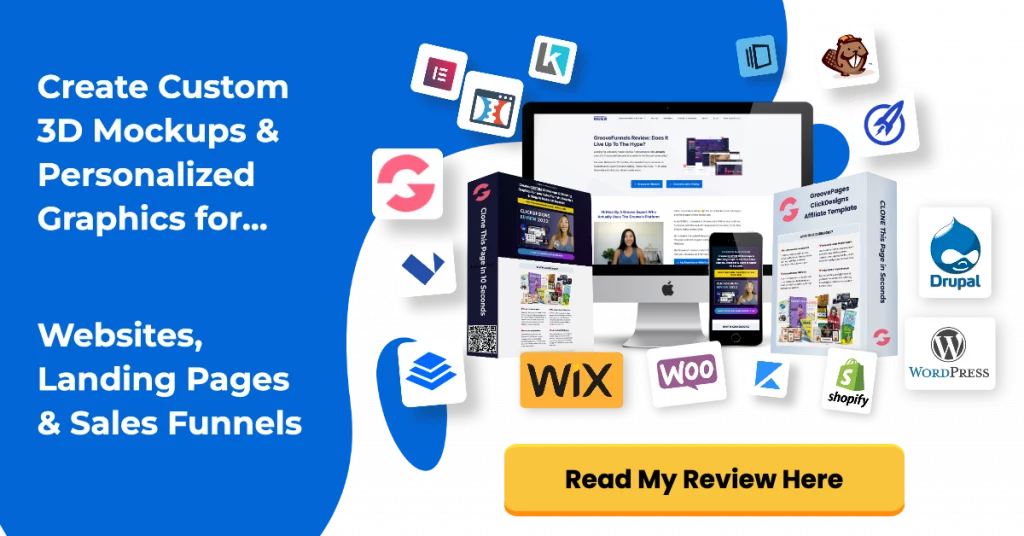 ---
GroovePages Review by Aimee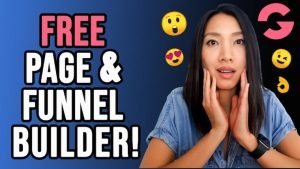 As of Mar 2022, GroovePages loads extremely fast and is an easy to use drag-and-drop page builder with many features for customization. If you're after a website and funnel builder that has SEO in mind and integrates with other software, then GroovePages might be the tool for you!
Price: 0.00
Price Currency: $
Operating System: Web
Application Category: SaaS