NOTE: GrooveFunnels has rebranded to Groove.cm.
Back in April 2020, I was looking for an all-in-one platform to run my online business.
A platform that could handle hosting, sales funnels, email marketing, sell digital products, affiliate programs etc all in ONE central place.
That's when I stumbled upon GrooveFunnels.
The Reality Of Using Groove.cm & GrooveFunnels After 17 Months
Hi, my name is Aimee Vo – a digital marketing strategist and creator of this GrooveFunnels.review site.
I was once in your position, searching for information on whether Groove.cm was right for me and worth the investment.
Since I post a tonne of helpful Groove training on my Youtube channel, I've become a trusted advisor to many new Groove users.
In fact, I've been known within the community as providing helpful and actionable content that reduces overwhelm and gets things done!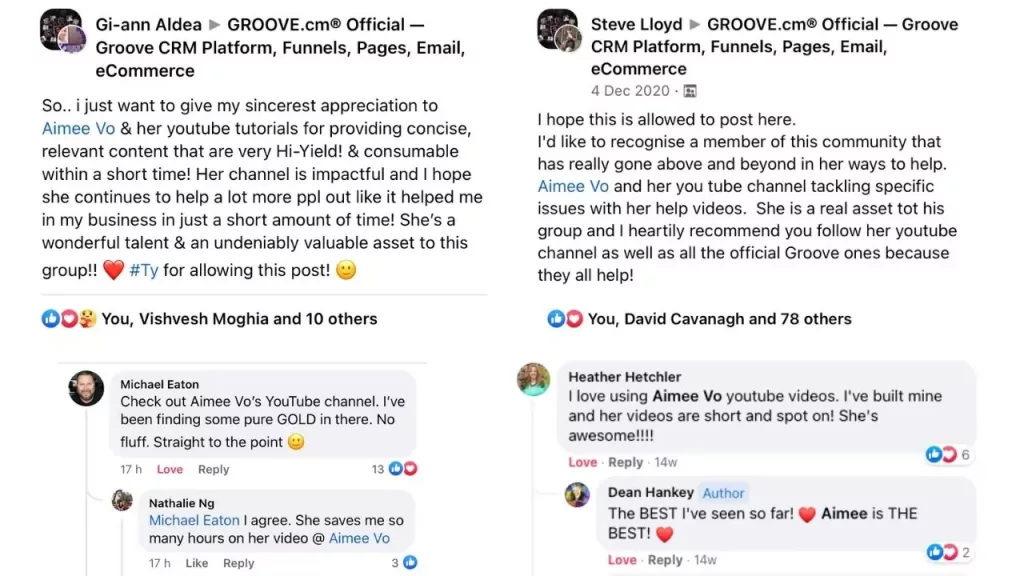 I bought Groove for my own business and it is my hope that this transparent review will help you make an informed decision.
Here's my brutally honest experience after purchasing Groove's platinum lifetime deal.
My first few months of using Groove was frustrating and buggy as hell.
Back in May 2020, the three apps that was available at that time was only GroovePages, GrooveSell and GrooveAffiliate.
What you see now in your free account for GroovePages, GrooveSell, GrooveAffiliate etc has been totally revamped with more apps and features than what I had access to.
Between May to August 2020, when a new app was released on Groove.cm's platform – it was buggy and required continuous updates from Groove's developers.
Every review I read online was either hyping up the platform or presenting features that was not yet available.
It was extremely frustrating, I would spend hours configuring an app only to have it break (so I decided to share workarounds and how to setup Groove properly on Youtube)
When an app was working, advanced features were not available immediately and rolled out at a later date.
There were no direct integrations with existing Groove apps so you couldn't connect the apps to each other.
For example, GrooveSell (their free shopping cart) did not integrate with GrooveMember (membership site) and anyone could access your online course.
NOW: Thankfully memberships URLs are now secure!
And because there were new apps and updates rolled out every month, Groove's training became outdated quickly.
I was so close to tossing Groove in the 'too hard' basket and just parking it until it came out of beta.
But towards the end of December 2020, things started to change…
Bugs Were Ironed Out Quickly, New Features & More Apps Added…
The Groove digital team started listening to their customers and hired more developers to iron out bugs quickly.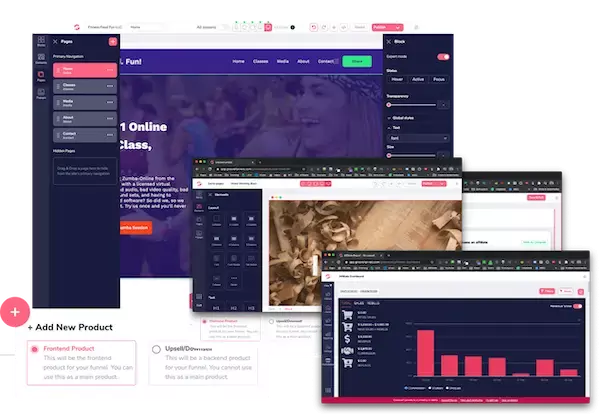 They began adding direct integration with other Groove apps like GrooveSell, GrooveMember, GrooveMail etc
They ran live weekly training webinars on how to build sales funnels using GrooveFunnels…
Showcasing the latest bug fixes and new feature updates.
They started adding new features and more unannounced apps on both the free and lifetime plan.
In 2021, instead of releasing an app that was not working or buggy….
Groove focused more on quality and would release an app ONLY when it was fully functional.
GrooveBlog was proof of this.
When GrooveBlog was released in February 2021, I was pleasantly surprised.
It wasn't advanced as WordPress but it was clean, light weight, loaded extremely fast and had an easy to use interface.
There were minor bugs but that was ironed out quickly unlike before.
Looking back, it was a bit of a gamble being an early adopter of a new platform but…. I don't regret it.
Here's why I don't regret it:
I locked in a lower price
Got 25,000 emails contacts for email marketing
And more bonuses than I could ever imagine
With a bit of patience and perseverance, I've already made back my investment on GrooveFunnels by creating funnels, niche sites and selling products on Groove.cm's platform.
The company went through MAJOR teething pains in the first two years and whilst it was frustrating early on, these setbacks were temporary.
The whole user interface has completely changed with improved updates happening on a monthly basis.
And because I continually test the apps on my Youtube Channel, I can say without a doubt that….
YES, you can start and run your online business on Groove even on the free plan.
What's Included In GrooveFunnels' Lifetime Offer?
A drag and drop page, website and sales funnel builder that allows you to create complete full menu websites, landing pages and sales funnels within one project.
👍 Pros:
Unlimited websites and sales funnels
Professional designed blocks and elements with styling and formatting that you can drag in
Pre-designed websites, landing page and funnel templates so you don't need to start from scratch
Images are optimized into a webP format to create smaller and richer images for fast website loading time.
Unlimited custom domains
Unlimited bandwidth and hosting
Easy to use, drag and drop editor
Unlimited ShareFunnels
Included in lifetime deal
👎 Cons:
An array of styling and formatting options can be overwhelming but great for designers who like to control every element.
GroovePages Conclusion:
As a website, landing page and funnel building software, GroovePages is at par with ClickFunnels if not better.
For those getting started, the free plan represents great value as you can publish up to 3 websites or funnel projects on your own custom domain without having to upgrade to the lifetime plan.
If you're used to using ClickFunnels and Kartra, then you'll be familiar with the drag and drop editor interface so it won't take you long to get up and running.
You can connect and publish your own custom domains and get a SSL certificate via Groove without having to create a Cloudflare account.
However, if you already have a website on your root domain like I do – then you can create a subdomain and connect your custom domains via Cloudflare.
The ability to create unlimited websites and funnels on the lifetime plan makes it a good long term investment as pricing for builders start at $197/month and more.
That's $2364 / year in savings for LIFE and it comes with professionally designed website and funnel templates.
GroovePages alone as a sales funnel builder is worth the price of GrooveFunnels lifetime deal.
I would say sign up to the free account, test it and you'll be surprised at how fast and easy it is to use.
ALTERNATIVE TO: ClickFunnels (Save $3564/year).
STATUS: App available and fully functional
A shopping cart, powerful sales management and affiliate management platform and powerful sales management designed to help you sell MORE digital products and services.
👍 Pros:
Build custom checkout and order forms with different price points and layouts
Flexible pricing options: set one-time payments, recurring billing, payment instalments, recurring instalments and enable trial period before billing
Create upsells, OTOs, down-sells and pre and post order bumps!
Connect to PayPal, Stripe, GroovePay and other popular payment gateways without paying additional fees (lifetime members get more payment gateway options)
Create affiliate programs when you're setting up your products
Set multiple currencies not just USD – over 20+ currencies available
Create coupons and discount codes for products
In-depth reporting of sales, refunds, re-bills etc
Export customer contacts and emails in csv file
Included in free and lifetime deal
👎 Cons:
May look complicated to setup but watch my "GrooveSell Tutorial on Youtube" – it's to the point especially when you can't attend a 2 hour Groove training.
GrooveSell Conclusion:
Can't complain much with GrooveSell because it's Free regardless of whether you're on the Free or Lifetime plan.
ThriveCart offers similar features for a one-time price of $495.
You really can't get a full fledged shopping cart, sales and affiliate management platform these days without paying some sort of fee.
Major players like Clickbank, SamCart, JVZoo & PayKickStart are either charging a monthly price or a percentage commission on your sales.
GrooveSell is completely free with $0 setup fees, $0 monthly fees or $0 transaction fees.
You also get to list your products in Groove's marketplace.
The marketplace is quite small right now, but as a vendor you can leverage the marketplace by listing your products and attract an army of affiliates.
GrooveSell gets a big thumbs up from me and your free account comes with the full edition of GrooveSell and lifetime upgrades.
ALTERNATIVE TO: SamCart (Save $2388/year).
STATUS: App available and fully functional.
A cloud based affiliate management platform that allows you to create your own affiliate programs for digital and physical products with advanced affiliate tracking.
👍 Pros:
Unlimited affiliate programs
Create affiliate promotional tools like email swipes, blog reviews, articles, banners for your affiliates
Create dedicated landing pages and sales funnels to test your sales page's EPCs and conversions
Allows affiliates to add their own bonuses
Create affiliate leaderboards for launches
See affiliate statistics, email affiliates and track your top affiliate's performance
Assign higher commission rates for top performing affiliates
In-depth reporting of all transactions, sub affiliates, earning reports and payment history
Included in free and lifetime deal
👎 Cons:
Reporting interface can be improved
Manual affiliate payouts (payment syncs will be coming soon with GrooveSell Plus)
GrooveAffiliate Conclusion:
One of the best things I like about GrooveAffiliate is that your affiliates get access to advanced features that you won't find in marketplaces like ClickBank.
For example, your affiliates can issue their own bonuses delivery inside the interface and drop their advertising conversion codes on the order confirmation page (but you can turn those features off too).
This is a game changer because most of the time, affiliates are flying blind without knowing if their traffic is converting or not.
By listing your products in their Groove Marketplace, you instantly tap into their 500,000 user base and have people signing up to your affiliate program and making sales.
What I don't like? Affiliate payouts aren't automated and they can improve the affiliate reporting area where you don't have to keep scrolling to the right to see data.
ALTERNATIVE TO: TapAffiliate (Save $1788/year).
STATUS: App available and fully functional.
An email marketing, autoresponder and marketing automation platform.Build your email list, send out email marketing campaigns and automate IF & THEN triggers between Groove apps.
👍 Pros:
Add or import up to 25,000 contacts on the platinum lifetime plan
Unlimited email lists and opt-in forms
Unlimited tags and segments
Unlimited email broadcasts and email sequences
Create marketing automations of IF and THEN rules within GrooveMail and other Groove apps like GrooveSell and GrooveMember
Monitor leads and block specific emails
Schedule for a cleaner and modern interface update by end of 2021
SMS integration with Twilio and MMS is coming
Included in lifetime deal
👎 Cons:
Styling GrooveMail forms on GroovePages can be buggy
You will need to create a free business domain and add it as a email sender in settings
GrooveMail servers are being warmed up and should be back in September 2021.
GrooveMail Conclusion:
I bought Groovefunnels lifetime mainly because of GrooveMail.
GrooveMail is modelled after ActiveCampaign (my current email marketing service).
For 25,000 contacts / month on ActiveCampaign, you're looking at paying between $285 per month on their lite plan or $669 on the professional plan.
That's a minimum of $3420 per year which makes Grooves' lifetime offer a no brainer at $1397 – and email marketing is a necessity in running an online business.
GrooveMail has features that you will find in any email marketing service like: creating lists, forms, tags, build email sequences etc
What I like the most is that their marketing automation feature which integrates with other Groove apps like GrooveSell and GrooveMember.
So if someone purchases a product in GrooveSell, you can add an automation to have people added to a specific membership.
Or trigger an onboarding email sequence in GrooveMail to follow up with customers.
They plan to integrate more SMS providers by the end of 2021 which is great for local businesses, coaches and consultants who want to follow up with their leads via mobile.
ALTERNATIVE TO: ActiveCampaign (Save $3420/year)
STATUS: App available for lifetime users. Free users will get access at a later date.
A membership and course hosting platform that allows you to create and sell digital products, online courses and membership sites.
👍 Pros:
Create unlimited memberships sites
Create multiple tiers with different price points
You can customize each lesson by dragging in different elements just like a page builder
Drip content on a time-release schedule
Upload pdf, mp3, png, jpg etc in the file management area
Create a course portal with single-sign-on for all courses and create a school page
Connect to unlimited custom domain name
Membership sites are mobile responsive
Disable membership access for specific users
You can issue certificates to graduates (to be scheduled)
Included in lifetime deal
👎 Cons:
Formatting can be a bit buggy but they have addressed that recently
No membership themes or branded colors but coming soon in September
No quizzes or assessments – schedule for later release
GrooveMember Conclusion:
I'll be honest here, GrooveMember was sooooo clunky and buggy when it first launched but it's functional now.
The best part is that you can automate adding purchasers to different membership levels within GrooveSell and GrooveMail marketing automation (the apps talk to each other!).
I like that GrooveMember is now mobile responsive so your students can learn on the go.
Plus you can host your membership or course on your own custom domain for complete branding.
What I don't like? The membership area has a fixed content layout and there are no membership theme.
However the interface is scheduled for an update in September with new membership themes so that it looks even better than Teachable.
Learning management systems like Thinkific, Kajabi, Teachable charge $49 to $197 per month depending on the number of students and features integrations.
With the lifetime plan, you can create unlimited membership sites (i.e. unlimited courses) – saving you thousands of dollars per year for life.
I've created a detailed GrooveMember tutorial and how to create a course portal on my Youtube channel to help you get started with GrooveMember.
But you'll also get access to my bonus GrooveFunnels quick-start training with updates on how to setup GrooveMember step-by-step.
ALTERNATIVE TO: Kajabi & Thinkific (Save $1908/year).
STATUS: App available and fully functional.
GrooveVideo is a video hosting platform. You can upload and host private video content for your online courses and membership sites here.
👍 Pros:
Upload, host and track private videos
Responsive video sizes
Mute videos on start, autoplay on load and show video titles
Add an "optin to unlock" videos – great for list building and lead generation
Add banner images to your videos
Add text overlay on top of your video
Add CTA banners or text overlays on your video
Customization of video control player play button and to your own branded colors
Connect to Amazon s3 and 3rd party storage if you're on the free account
Analytics of impressions, unique views, total finished and watch time.
Upload to 100GB of video content for lifetime plan
👎 Cons:
Could do with more video analytics
Not integrated with GrooveMember yet however you can embed your GrooveVideo html code.
GrooveVideo Conclusion:
Like any video hosting platform, you can upload videos on GrooveVideo and embed your videos on any web page.
The cool part about GrooveVideo is that there are 4 interactive video elements to encourage users to take an action.
What I don't like about GrooveVideo is their limited analytics and there is no direct integration with GrooveMember.
For now, you would have to use the video embed code from GrooveVideo in order to embed that video in GrooveMember lesson.
It does however integrate with GroovePages which connects to your video storage using a video element.
There will be future updates where you can trigger actions based on viewer behaviours, such as viewing all or part of a video etc.
In summary, you're saving 100GB in video hosting on the lifetime plan instead of using Wistia or Vimeo.
ALTERNATIVE TO: Vimeo (Save $240/year).
STATUS: App available and fully functional.
GrooveKart is an all-in-one eCommerce platform to sell physical products. It is a direct competitor to Shopify.
👍 Pros:
Import and migrate your Shopify store in minutes
Has a store wizard that walks you through 6 steps to launch your online store
Built with print on demand and dropshipping stores in mind
Customize your store and product pages for higher conversion instead of a fixed theme layout
In-built apps like quizzes, product reviews, spin wheels, live chat, coupons, FB Messenger, GDPR, Zapier and more
Integrates with the following payment gateways: PayPal, Stripe, Authorize.net, nuvei, Uviba, Card PMT, Nmi Gateway, Banxate, 2checkout, Cash On Delivery
Unlimited GrooveKart stores on lifetime plan
👎 Cons:
Bigger learning curve than Shopify
Setting shipping zones is outside of the USA is a bit tricky
GrooveKart Conclusion:
I found GrooveKart slightly overwhelming as there were so many features and customizations available.
However I'm not in the eCommerce market and have been told by users that like all the extras that GrooveKart offers.
There are no website themes but you can design your store using a page builder with pre-designed blocks just like GroovePages.
Those who have strong experienced in dropshipping and print on demand stores will appreciate the ability to create a customized product landing page for higher conversions.
Plus they have in-built apps that you would normally have to purchase separately on Shopify so you're saving more money in terms of monthly app subscriptions.
I would use GrooveKart to test and validate new products quickly without modifying your existing store.
Especially when you're dropshipping or testing a new print on demand product with ads.
GrooveKart has gone through several iterations and the latest update has an onboarding wizard with six steps to reduce overwhelm.
I did not buy GrooveFunnels lifetime for GrooveKart but I suggest you sign up to the free account and test it out for yourself.
You're not limited to one store either, on the lifetime plan you can create unlimited GrooveKart stores.
ALTERNATIVE TO: Shopify (Save $948/year).
STATUS: App available and fully functional.
GrooveBlog is a light weight and fast loading blogging platform that is ideal for those who do light blogging at this stage.
👍 Pros:
Unlimited GrooveBlogs
Loads extremely fast
Easy to use and create blog posts
Add links to your social media profiles
Custom domain integration – connect your blog to your own domain name
Embed Ad tracking codes for monetization
Embed Tracking codes and ad pixels
Included in Lifetime deal
👎 Cons:
Only one blog theme
No import from WordPress tool (but coming soon)
Limited advanced SEO features
GrooveBlog Conclusion:
If you're just dipping your toes in the blogging world and haven't chosen your niche yet, use GrooveBlog to test your niche.
It is a light weight and fast loading blogging platform that has all of the core features you would find in WordPress.
Now, if you're thinking of transferring your blog over from WordPress, I don't think GrooveBlog is there yet.
There is limited SEO features and no plugins available so it's not ideal for those who want all the bells and whistles.
If your website is on WordPress with high domain authority, rely on SEO for traffic and have pages ranking in Google, keep using WordPress.
I would use GrooveBlog and GroovePages to start fresh on new smaller niche sites and keep using WordPress for older established websites.
Use GrooveBlog more as a web 2.0 content syndication until they add more SEO features.
On the plus side, you can save $150/year on WordPress hosting.
ALTERNATIVE TO: WordPress (Save $150/year on WordPress Hosting).
STATUS: App available and fully functional.
9. GrooveProof
Show real time social proof of purchases on your website. This is built into GrooveSell although they are creating a separate app for it to use for other social proof. Create Unlimited social proof on the lifetime plan.
ALTERNATIVE TO: Provely (Save $197/year).
STATUS: App available and fully functional.
10. GrooveAutomation
Connect third party software / apps and automate marketing tasks in GrooveMail, GroovePages, GrooveSell etc You can use web hooks to integrate other apps as well. Limits are still to be decided on the lifetime plan.
ALTERNATIVE TO: Zapier (Save $100/year).
STATUS: App available and fully functional.
11. GrooveDesk*
This is Groove Digital's built-in help desk for customer service, billing enquiries and support tickets. Because it integrates with GrooveSell & GrooveMail, you can issue refunds and respond to emails via the help desk. Limits are still to be decided on the lifetime plan.
ALTERNATIVE TO: ZendDesk (Save $600/year).
STATUS: App not released yet.
12. GrooveCalendar*
Book and schedule meetings invites that integrate with Google calendar. It will integrate with GrooveSell so you can sell coaching and consulting sessions. Also set up public viewable calendars for available session times. Create unlimited Calendars.
ALTERNATIVE TO: Calendly (Save $144/year).
STATUS: App not released yet.
13. GrooveWebinars Live*
Groove Digital's in built webinar platform that allows you to schedule and host live webinars with polls, surveys, popups, countdowns and offers right within the webinar. Limits are still to be decided on the lifetime plan.
ALTERNATIVE TO: GoToWebinar (Save $1188/year).
STATUS: App not released yet.
14. GrooveWebinar Automated
Turn your existing webinars into evergreen webinars. Put your best and most high converting webinar recordings into an automated webinar funnel. Limits are still to be decided on the lifetime plan.
ALTERNATIVE TO: Everwebinar (Save $497/year).
STATUS:Available now.
15. GrooveStreaming*
Live stream to all major social platforms simultaneously straight from your browser. Because it's cloud base, it will work on both Mac and PC.
ALTERNATIVE TO: StreamYard (Save $468/year).
STATUS: App not released yet.
17. GrooveQuiz*
Create lead generating quizzes, collect and export responses and integrate it with GrooveMail for follow up email marketing campaigns.
ALTERNATIVE TO: LeadQuizzes (Save $420/year).
STATUS: App not released yet.
19. GroovePipe CRM*
A CRM and pipeline management software to get more qualified leads and monitor deals to grow your business. Integrates with GrooveCalendar and GrooveMail so that you can plan your sales activities.
ALTERNATIVE TO: Pipedrive (Save $298/year).
STATUS: App not released yet.
20. Groove SDK*
Groove Digital's software development kit for you to develop apps, extensions and plugins for all the groove apps on the GrooveFunnels platform. Great for developers who want to build and sell software.
ALTERNATIVE TO: WordPress Developer Kit (Save $990/year).
* Scheduled for release by the end of 2021
Get access to all available apps and future apps on the free plan.
Groove Marketplace
Last but not least, Groove's has two Marketplaces.
The first marketplace is called "Affiliate Marketplace" where members can list their products they created on GrooveSell and attract affiliates within GrooveFunnels.
Think of it like a mini ClickBank where you can filter products based on the niche, join the affiliate programs and earn affiliate commissions.
On Clickbank, popular products will have a "Gravity" score whilst on the Affiliate Marketplace, there is a "Affiliate Power Score" abbreviated as APS.
The second marketplace is called "GroovePages Marketplace", if you created a design on GroovePages then you can sell your designs in the GroovePages Marketplace.
Who is Groove.cm For?
It sounds cliché however given that Groove.cm has so many tools and apps on the platform – it can essentially serve any online business model.
Here are just some of the types of businesses I see benefiting from Groove:
Course Creators
Membership site owners
Digital product sellers
Digital Marketing Consultant
Sales Funnel builder or designer
Email marketing specialist
eCommerce owners
Coaches and consultants
Affiliate marketers
Joint Venture specialists
Webinar Organizer or specialist
Website Designer
Landing Page Designer
Marketing Agencies and more.
Agency owners
So what do the 20 apps and marketplace add up to?
$17,506+ In Annual Subscription Savings For LIFETIME Access
Imagine if you bought ClickFunnels for life when it first came out?
You would have been over the moon by now with no outgoing monthly subscription fees.
Groove is offering you the opportunity to own the platform at a steeply discounted one-time price in exchange for being a backer and giving them feedback.
GrooveFunnels Pricing
The free plan is available and cost you $0 to get started with no credit card required.
However to get access to ALL Groove apps and full features, you will need to upgrade to the lifetime package (lifetime access).
As of 2nd September, there are 3 payment options for lifetime access:
2 monthly payments of $999
One-time payment of $1997
or 7 monthly payments of $597
It's a given that the one-time payment represents significant savings.
But when I was purchasing Groove, I took the monthly payments option to spread the cost over the months.
Here's an image of the payment plans from their upgrade page:
This offer or deal is known as their Lifetime Platinum plan.
After BETA is over (December 2021), the one-time lifetime price will no longer be available.

GrooveFunnel's Planned Price Increase In 2021
The lifetime price increased from $1397 to $1997 on 1st September 2021.
This price increase will last up to Black Friday or Thanks Giving 2021 (there could be a second price increase leading up to this date)
Lifetime Price officially ENDS around 25th/26th November and this is your last chance to purchase all the Groove apps for life.
They plan to switch to monthly pricing with two plans only:

$99 per month for the silver plan
and $299 per month

The Free plan limits may be reduced 1 custom domain instead of 3 (you really should sign up to the Free account now as they will honour any existing domains you connected)
Groove.cm Pricing Out of Beta
After Groove exits BETA which is estimated to be on December 15th (or sometime after Thanks Giving), there will be a transition period of a month before they switch to monthly payment plan.
They plan to switch to monthly pricing around January 2022 with two plans:
$99/month for the Silver Plan

$299/month for the

Platinum Plan
Free Base Plan Vs Lifetime Platinum Plan Features
Groove.cm's free version gives you access to ALL current apps like GroovePages, GrooveMail, GrooveSell, GrooveMail, GrooveMember, GrooveBlog, GrooveKart and ALL future apps.
The free version is referred as the "base plan" and is the "lite" version of GrooveFunnels.
On the free base plan you can create:
3 funnels or websites
Connect up to 3 domain names
Share 1 funnel and import up to 5 funnels
Add 500 email contacts in GrooveMail
1 membership site and 100 members
Upload up to 15 videos in GrooveVideo
1 blog in GrooveBlog
1 GrooveKart store every 30 days
There is however discussions reducing the limits on the Free account.
To make it easy to digest, I've create a comparison table between the free plan vs lifetime plan features here.
The free base plan gives you more than enough to start your online business and allows access to all 19+ future apps.
Play around with it and when you need more features, you can always upgrade later.
GrooveFunnels Vs ClickFunnels?
If you're wondering if GrooveFunnels / Groove.cm is better than ClickFunnels….
The answer at this point in time is a YES and NO.
YES – if you want a FREE website builder, sales funnel builder, shopping cart, email marketing service, membership site, affiliate management software, social proof and more for FREE (without having to pay a 14 day trial like ClickFunnels)
NO – if you want to import all your existing sales funnels, memberships and automations from Clickfunnels or Kartra into Groove.cm and have them working smoothly ASAP!
Lets be real here… Groove.cm / GrooveFunnels is still in BETA (only a few months left) and the platform is not mature as Clickfunnels or Kartra yet.
As much as I want to assure you that everything will work smoothly, I can't.
Chances are that there will be more bugs as Groove continues to add more features and roll out new apps on the platform.
A lot of people don't remember this but ClickFunnels was buggy as hell when they first launched.
I bought ClickFunnels' yearly plan for $997 back in 2014 when they first launch and it took them a good year to iron out bugs and improve their user interface (even out of beta).
ClickFunnels is known for one major app – their sales funnel builder.
They later added email marketing, affiliate management through BackPack.
Groove is trying to develop 19+ apps so it stands to reason that they will be in BETA for longer.
This allows them to iron out bugs, improve the system and add more features back on user feedback.
Russell Brunson is a fantastic marketer, there's no doubt about that.
And whilst Clickfunnels is great for creating sales funnels, it comes with a hefty monthly bill of $297 if you want to access their affiliate management and marketing automation system.
On Groove's free plan, you get the full version of their affiliate management software on GrooveSell and GrooveAffiliate for FREE.
This allows you to create unlimited products and unlimited affiliate programs on GrooveSell without having to upgrade to the $297/month plan of Clickfunnels.
GrooveSell also comes fully-loaded with a free shopping cart and sales management system to receive payments for physical and digital products, subscriptions, and services.
GrooveAffiliate gives you all the tools to create and manage your own affiliate programs, assign specific commission rates and links to specific affiliates and so much more.
Aside from their Free website and sales builder, sales and affiliate management platform – Groove.cm offers the following:
Webinar hosting platform
Automated webinars
Course and membership hosting
Email marketing and automation
Shopping cart and checkout system
Booking and calendar scheduling
Quizzes and surveys
Help desk platform and
Too many features that it makes me dizzy
ClickFunnels does one thing extremely well and that is sales funnels.
It's not built to design fully responsive websites with menu navigations and funnels on one domain.
Nor does it offer all the other necessary tools you will need to run a online business without additional fees.
So to access ClickFunnels' complete affiliate management system and marketing automation, you will need to upgrade to the $297/month plan of Clickfunnels to access what is already offered for free in GrooveFunnels.
When Groove.cm goes out of BETA, the 19+ apps available will supersede ClickFunnels and put your online business on steroids
The reality is… ALL new SAAS (Software as a Service) start as minimal viable products.
You know, build a bike first to get from A to Z before you build a car.
It's part of the software development process.
As time goes by, more features get added and bugs get FIXED.
I say that from first hand experience because as an early adopter I've seen so many updates and improvements happen over the past year.
Groove.cm is not offering lifetime access at an extremely low price for no reason.
They need BETA testers to use and test the apps, and provide feedback to the developers.
Major apps like GroovePages, GrooveSell, GrooveAffiliate, GrooveMail, GrooveMember, GrooveVideo, GrooveBlog, GrooveKart are available and fully functional.
If you decide to invest in Groove.cm / GrooveFunnels:
Have some patience and give them time to develop the remaining apps.
Expect that there will be bugs when you buy in as a BETA tester.
View it as a long term investment, an asset to your business.
I purchased Groove as a long term investment, was prepared for bugs and used other software in the interim.
Yes, that meant paying for additional subscriptions but I'm in it for the long run.
Groove is aiming to go out of BETA and have all remaining apps released by Dec 2021 or early Jan 2022.
Three months flies by fast so if I were you, I would test drive the apps using the free account and keep an eye on their developments.
Groove.cm Pros & Cons
A lot of Groove reviews will give you the pros and cons without having used the apps or software.
I've been in the trenches, tested each app, shared solutions to problems on Youtube and the reality is…
There are downsides and upsides with using a BETA software, but mostly positive especially on the free plan.
As you can tell from my initial experience, it wasn't all roses in the beginning…
So here's the strengths and weaknesses as of September 2021 since there have been so many new updates:
Pros
The free base plan has enough apps and features for you to start an online business

GroovePages as a funnel builder is relatively easy with its drag and drop editor.
One-click integrations to connect your domains with SSL (you no longer need to use Cloudflare)
You can integrate with the most popular email marketing providers.
There are integrations with other third party software like Zapier, Everwebinar, Pipedrive etc
The

platinum lifetime

is a incredible lifetime deal with lifetime savings.
GroovePages and GrooveBlog load extremely fast, SEO friendly and fully responsive.
GrooveMember makes it easy to sell digital products and online courses in a secure members area.

You can connect to various payment gateway easily and sell products quickly

.
You earn 40% affiliate commission on the platinum lifetime plan for life.
You earn 20% affiliate commission on the free base plan for life.
In my opinion, GrooveSell and GrooveAffiliate alone on the

free plan

is worth at least $99 per month because that's what other companies are currently charging.

You can setup joint venture contracts with other members without having to set up a new company or agreements

.
By listing your products on Groove's marketplace (like ClickBank), you can leverage their 500,000 user base and attract an army of affiliates.
Weekly live digital marketing training from industry veterans that you would normally pay top dollar for.
The community is HUGE! Every time someone posts a question, there's always a helpful answer.
Bugs are ironed out quickly and with new feature requests added regularly.
They're constantly updating the user interface to make it more user friendly, clean and simple.
Cons
Support tickets are not answered quickly enough. It can take anywhere from 24 to 72 hours to get a response. This is the reason why I created my Youtube channel to help people troubleshot. My tip: Use the live chat during their business hours to troubleshoot technical issues right then and there!
It's in BETA, can be buggy especially when they are updating an existing app (patience is key here).
Advanced features aren't available straight away when an app is released but added gradually
If you using Clickfunnels or Kartra, its harder to import your existing funnels because ClickFunnels knows people are moving to GrooveFunnels and are blocking their IP – my suggestion is to design it from scratch because you'll become familiar with using the software and your designs are better looking.
A LOT of people promoting GrooveFunnels affiliate program and hyping it up so it looks like a multi-level marketing scheme or scam (when it's not). At the core, they are just a software development company who relies on affiliate marketers as a sales strategy.
GrooveFunnels training is really long – it can be 1.5 hour since it's live stream and 6 hour long training sessions. After much demand, they are introducing a section for shorter videos.
There are weekly pitches from other presenters which may be off putting to old users however helpful to beginners who want to be guided by a specific business model.
Is Groove.cm a Scam?
Groove is a legitimate software development company, and whilst it may look like the new kid on the block.
It's founded by veterans who have decades of experience in building successful digital marketing software.
The man behind GrooveFunnels is also the creator of multi-million dollar software companies like Kartra, Webinarjam, and Everwebinar.
That man's name is Mike Filsaime and he is the CEO of Groove.cm.
Mike Filsaime pioneered 'viral marketing' back in 2006 with the launch of Butterfly Marketing.
He's using the very same viral marketing strategy to growth hack GrooveFunnels into the fastest growing funnel building platform in the world.
Groove CRM is legitimate and not a scam, it's a software as a service company with over 500,000 users on their platform as of February 2021.
Is Groove.cm / GrooveFunnels Worth It?
If you asked me whether Groove's lifetime deal was worth the money back in May 2020, I would have said NO hold on to your wallet and just sign up to the free plan.
In fact, sign up to the free plan anyway because there is no credit card required and NO trial period forcing you to upgrade. It's completely FREE.
Given their app development, new features and additional apps – even in BETA, my answer has changed to a definite YES.
The platform is fairly easy to use once you dig into it but visit my Youtube channel first and watch my videos to get a feel of a platform.
Remember to come back here and sign up using the links on this page you can claim your bonuses!
Side note: I have been told by many Groove users that my Groove training on Youtube is the best, step-by-step and easy to understand videos out of all the Groove videos online. But don't take my word for it…
Many visitors have shown their support by signing up and upgrading to Groove using the links on this page. If you do, I promise you won't regret because you will receive some amazing bonuses from me too❤️
Honestly, GroovePages their core app is worth the cost of the lifetime deal alone.
GroovePages has improved significantly over the last year that I think it's at par, if not even better than Clickfunnels.
To get access to unlimited professional website design templates, funnel templates and a sales funnel builder – you would be paying Clickfunnels $3564 per year.
On the lifetime deal, you get unlimited websites, custom domains, unlimited hosting and bandwidth for life.
So if you're paying a fortune in marketing tools per month and have a long term view….
Tired of sticking-taping different services together and making them "talk" to each other….
Then Groove's lifetime deal is incredible offer that you'll end up kicking yourself for not taking it up.
In time, as they develop all 19+ apps, you can run your entire business on Groove Platinum without having to buy separate software subscriptions.
Even on Kartra's starter plan of $99/month, that's still $1000 in yearly subscription fees.
Back in April 2020, when I purchased lifetime access – they only offered 16 apps and $16,000 in yearly savings.
Now you get lifetime access to 19+ apps with more features, more bonuses and $17,000+ in yearly savings.
After a year of using GrooveFunnels, creating a bunch of free Groove training on Youtube and seeing how they continuously updated the platform….
I do believe that the Groove's platinum lifetime offer is a great long term investment and sincerely hope that they deliver on their promise.
Personally for me…
Even if they only fully develop 5 apps like GroovePages, GrooveMail, GrooveMember, GrooveSell and GrooveAffiliate, that's enough value for me in lifetime savings.
The rest of the apps are just extras as I prefer to use other tools and software.
Thanks for reading my GrooveFunnels review and be sure to check out my bonuses below.
For those who have asked me why I'm promoting Groove, well since I'm using the platform and solving problems by creating a bunch of step-by-step tutorials on Youtube…
Promoting Groove is a way of recouping the time and effort it takes to making these videos and giving away advice for free while I work on my own projects.
If you've read all the way down here and still have some questions, then click on page 2 below to read the most GrooveFunnels FAQs on the next page 😊