What Is GrooveWebinar?
GrooveWebinars is a three in one app that allows you to host automated evergreen webinars, live webinars and stream your live webinar to multiple social networks like Facebook and Youtube.
If you want to utilize the most effective medium for sales and communications then GrooveWebinar is for you.
With most sales funnels, you'll often see a sales letter or a video sales letter.
But did you know that webinars can condense your sales cycle into a shorter period?
If it normally takes you seven to ten days to get a stranger to go from cold to sold, a webinar can accomplish the same result in less than two hours.
By using a software like GrooveWebinars, you can educate and sell in one sitting.
You educate your prospects on making better choices related to their end goal and show them how your solution can help them achieve your goals.
I've used a few webinar softwares in my decade of being online. In this article, we'll review if GrooveWebinar is the right webinar tool for you.
Let's dive right in.
TL;DR GrooveWebinar Review
Too long and don't have time to read the entire article?
I've got you, here are the key GrooveWebinar takeaways you need to know:
What is GrooveWebinar? — GrooveWebinar is an easy to use automated webinar, live webinar and live streaming software.
GrooveWebinar's Features — GrooveWebinar features
GrooveWebinar Pricing — GrooveWebinar is free to get started. You can create 1 webinar in your free account. For a limited time, you can purchase a Groove lifetime subscription to create unlimited webinars for life.
Does GrooveWebinar Replace EverWebinar and WebinarJam? — Yes. With GrooveWebinars, it replaces EverWebinar and WebinarJam. Which means you don't have to purchase two separate software subscriptions for automated or live webinars. Plus you get the live-streaming software too!
If you're interested in Groove's Platinum lifetime deal, then check out my review here to see all the apps included in the lifetime plan.
GrooveWebinar Features
GrooveWebinar has most of the core features that you would expect from a webinar software.
Here's a list of the GrooveWebinar features and a description of each.
1. Choose From 4 Webinar Types
When you you create a new webinar, you're given the option of creating a:
Automated webinar: These can be repeated or evergreen webinars. Use a past webinar recording or any recorded video run webinars on autopilot.
Live webinar (coming soon): Host live webinars and is the most popular type of webinar you see online for live interaction.
Live streaming (coming soon): Stream your live webinar to multiple social networks like Facebook and Youtube for maximum visibility.
Meeting (coming soon): Schedule private meetings like zoom to a small group of people.
2. Upload A Saved Video File
You have the option of using a video that you have already uploaded in GrooveVideo, which is a video hosting app on Groove's platform.
But if you're on the free plan, uploading a video directly on GrooveMember is available however you would have to connect to Amazon s3 for video hosting.
3. Add Multiple Webinar Presenters
Your webinar can have multiple presenters, you can choose from:
Moderator: A moderator can view the control center room and moderate events even before a webinar starts
Presenter: A presenter will have access to the live room and will present the webinar
Host: A host controls the overall operation of the webinar
4. Schedule One Time or Recurring Webinars
Scheduling one-time webinars are self explanatory however when you select recurring webinars, you can select how many times a webinar:
Repeats: Every second, third or forth.
Recurring time: Day, Sunday, Monday, Tuesday, Wednesday, Thursday, Friday.
Time: Select start time.
Timezone: Use user's own time zone or any time zone.
Recurring time in a day: Once a day, every 2, 3, 4 or 5 hours.
Start and end date of webinars (can be a never ending schedule)
Groovefunnels Lifetime users can create unlimited live and recurring webinars.
5. Flexible Webinar Schedule Settings
Once you've select your webinar type; one time or recurring webinar.
You have the following flexible webinar settings:
Allow Instant Watch Replay: the registration page will show an addition option of "Watch the replay now". This option allows your visitors to watch a webinar replay immediately without having to wait for the next available session.
Allow Late Attendance: the purpose of this feature is allow people join as already running webinar instead of forcing them to wait for the next one – aka they can join late. I usually prefer people to join when the webinar starts to go through the whole introduction and go through the lay of the land.
Enable Just-In-Time Option: This feature allows people to join the webinar a few minutes before the webinar is about to start instead of having to wait for the next available session. I leave this enabled.
Hide Night time Schedules: If you like to keep things real, you might want to hide night schedules from users. By enabling this, if someone arrives on the registration page in the middle of the night, the next Just-in-time session available will be the next day over.
Display Available Schedules: Show the next one to six immediate available schedules
Block holidays: Don't want the webinar to run on specific days? No worries, you can block any day of the year you like.
6. Polls
If you want to engage your webinar attendees, you can create a poll by asking them a question and giving them answer options.
And you can even make the result public at the end of poll with a fake percentage to make it seem real.
7. Live Chat
You can pre-configure chat lines to show as if the webinar was live.
This is easily done by downloading a sample CSV file, adding chat lines and re-uploading that file back into GrooveWebinar.
I personally leave this option turned off for automated webinars and have a questions asked in the webinar to be sent to my email.
8. Hide or Display Attendees
You can choose to hide or display the number of attendees in a webinar.
Alternatively you can choose "Dynamic Attendees" and GrooveWebinar will replicate a typical dynamic attendee curve which includes setting:
Peak Attendance: the number of attendees you want to display
Peak Time: The time at which the webinar will have maximum number of attendees
Margin percentage: peak attendees will increase or decrease on the basis of a margin percentage to show a dynamic curve
Decline time: Time at which number of attendees will start decreasing gradually upto minimum number of attendees
Minimum attendees: Minimum number of attendees at the end of the webinar
9. Sticky Messages
Sticky messages appear in the top right hand corner of your chat box and stays fixed there.
Use this area to display any important messages you want your attendees to know.
10. Featured Comments
Featured comments can be used to showcase questions or comments from the audience. You can time when the comment should appear and how long it should stay up for.
11. Introduce an "Offer" During The Webinar
If you're running a webinar to sell a product or service, you can introduce a "offer" during the webinar.
This feature allows you to time when the offer should appear and end.
The name of the offer, offer headline, text below the headline and offer image.
12. File Sharing
Let's say you hooked people to staying towards the end of the webinar by offering a free workbook or the presentation slides.
You can share the file during the webinar and have it appear at any point in time.
13. Social Proof Alerts
Social proof alerts allows you to create customizable pop-up notifications during your webinar.
Alerts are Proof popups that show up on the screen as a proof of purchase, signup, registration or any other action. They will show up during the webinar for 6 seconds.
Use these proof alerts to encourage attendees to follow the actions of those who have gone before them.
14. Countdown Timers
Also within the "offers" feature, you can add countdown timers to an offer to create a sense of real-time urgency for your webinar attendees.
You can configure count down timers to occur at the same time as your offer.
15. Email & SMS Notifications
You can choose to send pre and post webinar reminders via email or SMS.
There are email templates already loaded in GrooveWebinar and all you need to do is change the time you want the email sent and the subject headline.
GrooveWebinar Pros & Cons
Here's the high level summary of the pros and cons on the GrooveWebinar:
Pros
Cons

✔

3 Free GrooveWebinars

✘

You will need to connect Amazon s3 to uploaded video files

✔

Plenty of engagement options

✔

Flexible scheduling for recurring webinars

✔

Integrates with GroovePages (funnel builder)

✔

Integrates with GrooveSell (shopping cart)

✔

Lifetime plans includes UNLIMITED webinars
How To Set Up Your Webinar Funnel In GrooveWebinars?
You create all your webinar funnel pages in GroovePages.
There is a tab called "Webinar" in GroovePages, and you create all your webinar funnel pages there.
If you're an upgraded customer, use the pre-existing webinar funnel templates and it will automatically create the following pages for you:
Webinar registration page
Webinar confirmation page
Webinar Broadcast Live page
Webinar Replay Page
Webinar order page
Webinar thank you page
Once those page templates have been loaded, just upload your logo, edit the copy and images towards your webinar.
If you're not selling anything on your webinar, you won't need the order or thank you page.
However if you're introducing and offer or selling a product on the webinar, then you want to have the order and thank you page ready.
Your GroovePages funnel pages is connected to GrooveWebinar and pulled into GrooveWebinar when you create your webinar in the "pages".
However there is an option to enter a custom URL if you are currently using an external page builder.
GrooveWebinars vs WebinarJam and EverWebinar
GrooveWebinar is already replacing EverWebinar because automated webinars are live and fully functional.
Live webinars and live streaming will be rolled out by the end of December 2021.
So by the time you're reading this, hosting live webinars will be rolled out and replaces everything that you're currently getting in WebinarJam.
I'm not concerned with GrooveWebinar's features or functionality because the co-founder of WebinarJam and EverWebinar is Mike Filsaime.
And Mike Filsaime is now the CEO of Groove so I'm expecting him to bring across the same features, if not better.
Having said that, I bought the WebinarJam lifetime years ago and the only thing missing in GrooveWebinars is integrating your own email autoresponder.
Connecting your own email marketing provider is also scheduled and rolled out by December 2021.
I like GrooveWebinar more because it's connected to GroovePages so you can integrate your own webinar registration and confirmation pages easily.
GrooveWebinar Tutorial & Demo
If you've reached this point, I'm sure you want to see GrooveWebinar in action.
Watch my GrooveWebinar tutorial and demo video below.
You'll learn the logical order of setting up your webinar funnel pages in GroovePages.
And how to customize your webinar to add engagement options like polls, live chat, sticky messages, featured comments, offers and more!
Want To Increase Your Webinar Sales?
I recommend creating 3D mockups of your products and services and adding it to your webinar slides.
When you're presenting your offer on the webinar slides, add custom 3d mockups of the course content, book covers and sales funnel graphics on your webinar AND sales page for higher conversions.
I've always struggled with design and could not justify hiring expensive graphic designers.
Not anymore.
The banner below was created WITHOUT any design skills and under 60 seconds.
Just point-and-click, drag-and-drop, then export!
Click the banner to learn how you can create stunning 3D digital product mockups and sales funnel graphics without any design skills.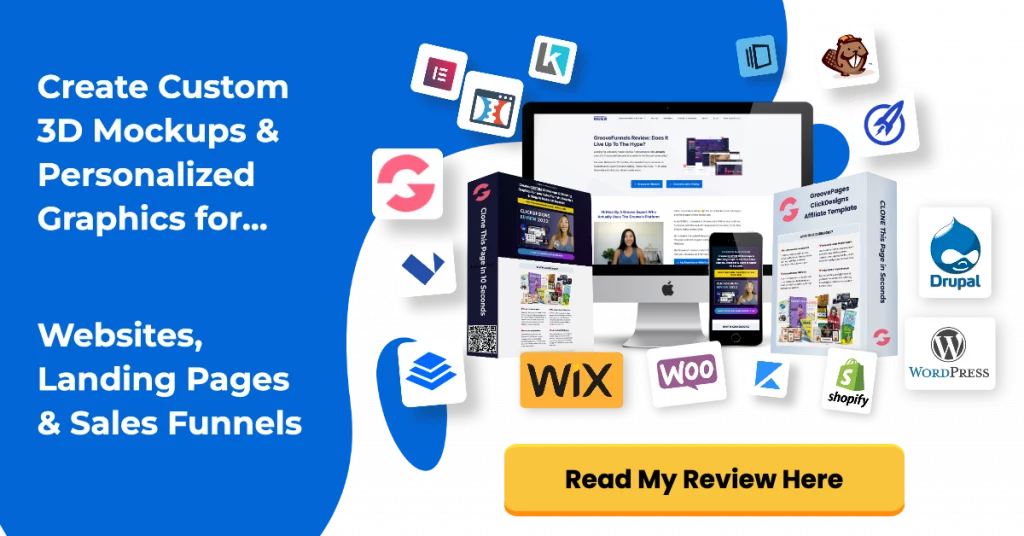 GrooveWebinar Frequent Asked Questions
What is the difference between Groove.cm / GrooveFunnels vs GrooveWebinar?
Groovefunnels is Groove.cm and is the parent brand for all the groove apps – GrooveWebinar is an app within GrooveFunnels suite. Since GrooveWebinar is as an app within the Groove.cm platform, check out my review on GrooveFunnels lifetime deal.
When Will GrooveWebinar Live & Streaming Be Available?
Groove is expecting to have these two features available within GrooveWebinar around late 2022.
GrooveWebinar Review by Aimee
GrooveWebinar replaces EverWebinar, WebinarJam and Streamyard. This three in one software will help you create and host powerful marketing webinars.. On the lifetime plan, you can create unlimited webinars and connect it to GroovePages and GrooveSell.
Price: 0.00
Price Currency: $
Operating System: Web
Application Category: SaaS