What Is GrooveSell?
GrooveSell is a powerful free shopping cart and sales management platform that allows you to create custom order forms, upsells, down-sells and order bumps.
It's an alternative to major shopping cart softwares like Clickbank, Thrivecart, Samcart, and Paykickstart.
Since GrooveSell is an app within Groove's platform, read my review on Groove.cm and learn how you can run your entire online business without having multiple software subscriptions.
Why Is GrooveSell Free?
GrooveSell is free to help small businesses and entrepreneurs impacted from COVID 19 crisis.
The founders of Groove Digital wanted a way to give back to the business community.
Use GrooveSell to create order forms and shopping carts plus you'll also get access to GroovePages Lite, which lets you build up to three websites or sales funnels for free.
This means you can create a landing page, sales page, checkout page, and thank you page to deliver your products and services without paying anything for your software.
GrooveSell Key Features
GrooveSell is more than just a shopping cart, this free software has so many features:
Create unlimited product funnels and sales funnels
Create custom order forms with your own brand colors
Create coupons and discount codes for your products
Increase average order transactions using up-sells, down-sells and order bumps
Integrates with major payment gateway providers including Paypal, Stripe and more

Create and manage your own affiliate program

Connect with major email marketing services to build your customer email list
Collect emails for cart abandonments
Collect emails and contact details from your customers
Access to the Groove affiliate platform which pays between 20-40% commission (promote Groove if you see value in using the software)
Integrate with Zapier or use webhook for other marketing automations
Access to Groove Marketplace where you can list your products and attract an army of affiliates
All of these features and more are included in your free account.
Plus you'll receive future updates to the software for free as well!
How Does GrooveSell Work?
When you want to sell products on GrooveSell, you need to create a product funnel.
Think of a product funnel as a sales funnel in which you can add as many products as you like.
For example, let's say you're launching a Instagram online course that has 3 products in your sales funnel:
Main Instagram course priced at $497
Upsell of coaching for $497 and
Downsell of $97 per month membership.
This means you create ONE product funnel with three products inside that product funnel.
Now, you don't need to create an upsell or downsell product.
The above is only an example of what can potentially create inside your product funnel.
You can use GrooveSell to sell one single product as well.
Setting up a product is easy, and there are 11 steps of creating a product funnel.
Most of these steps are mainly confirming details so it's not as complicated as it looks.
Instead of telling you what GrooveSell does, let me show you a demo on how to sell products on GrooveSell.
How To Create & Sell Products On GrooveSell
In the example below, let's say we're selling an Instagram course and to keep it simple, there are no upsells or downsells.
Create a GrooveSell Product In 11 Steps
Once you're logged in the GrooveSell dashboard, click on "Product Funnels", "Product Funnels" again and click "New Product Funnel".
This opens up a light box where you complete basic details of the course such as:
Name: product name
Product Internal name: this is just an internal name for your reference – your customers won't see this name
Description: give your course a description
Category: select what category your product falls in
Currency: the currency you would like to receive sales in
Domain: you have the ability to add a custom domain for checkout pages here and it's optional but not necessary to have your sales funnels up
Show in marketplace: This is when you have an affiliate program for your product and you want to list it on the GrooveMarketplace. I usually switch this off until you've tested your sales page is converting.
Once you completed the details and clicked on "Create Product Funnel", you will see your product created.
Click on the yellow pencil icon to open up the sales wizard:
This will load up the sales wizard for this product which will walk you through 11 steps
1. Product Information & Description
Product Name: enter the name of your course
Product Internal name: internal name for your reference
Description: give your course a description
Frontend Product or Upsell/Downsell: since this is just one product, you will leave it set to "Frontend Product"
Once you're done, click on "Save & Next".
2. Pricing Options
Price Point Name: enter the name of your course again
Internal name: internal name for your reference
Description: give your course a description
Leave it set to default
Type: this is a one-time product
Price: Set the price of the course – example $127
Once you're done, click on "Save & Next".
3. Select Payment Gateways
Click on Payment gateways tab: select credit card and add stripe payment gateway
You can also click on "Setup Gateways" to connect your desired payment gateway.
Once you're done, click on "Save & Next".
4. Content Page URLs
Step 4 is where you enter your URLs for your sales page, thank you page, refund period and support information.
You would create your pages in GroovePages and have the URL for these pages at hand.
Sales Page: enter in your sales page URL
Thank you Page: enter your Thank you page URL
Refund period: enter any refund period, I usually leave it at 30 days
Support Info: if you have a help desk URL, enter it here
Once you're done, click on "Save & Next".
5. Checkout Page Settings
Look & Feel: upload your product image and change your order form colors if you wish
Form Fields: add more fields on your order form
Express checkout: leave as is
Cart abandonment: connect your your email marketing provider if you wish here
Custom Css/Tracking: add google tag manager or any conversion tracking codes here
Legal: enter a link to your terms of service pages here
Language: it's set to English by default
Quantity: enable whether the number of quantities should appear on your order form. For digital products, just leave it set to "not sold in quantities"
Once you're done, click on "Save & Next".
6. Creating Order Bumps
Order Bumps: you can set order bumps here for a low ticket item under $17 if you wish.
We're just selling one product, click "Save & Next.
7. Funnel Thank You Pages
This is will carry forward your thankyou page URL you set previously.
You don't need to do anything here and click "Save & Next.
8. Fulfilment
You can set delivery and fulfilment integrating with GrooveMember
On your free GrooveSell account, you can create 1

GrooveMember site

for free to host your online course
Click on "Add New membership" pink button
Select the GrooveMember course name and the access level
Click "Save & Next.
9. Create a Affiliate Program
You can create an affiliate program for your product at this step too.
If you decide to create an affiliate program, all affiliate tools are handle in GrooveAffiliate.
In this example, we'll click "No Affiliate Program" however this option is available for you when you're ready to add an affiliate program.

Click "Save & Next.

10. Social Proof
This is where you can add a social proof popup widget on the bottom left of a page
It usually appears as "Name has just purchased this product" like the image below:
You can create this social proof widget for free at this step by selecting options under the "Info", "Display" & "Design Tabs".
To save you time, I've included an example of what to set in the screenshots below.

11. Finish – Tracking Links & Proof Widgets
Step 11 gives you your tracking link and proof widget to add on your sales page. You add your tracking link in the "BODY" section of your product's sales page.
This just allows GrooveSell to track the number of sales in the GrooveSell reporting dashboard.
Once you make your funnel LIVE, you can start collecting payments for your products!
If you prefer to learn by watching, I've included extra bonuses when you sign up through the links on this page.
GrooveSell Bonuses
✅ GrooveFunnels Quick-Start Training Course: Over 40+ step-by-step bite size training that will save you a TONNE of time and frustration on GrooveFunnels.
✅ Sales Funnels Planning Workbook: The PLAYBOOK to build simple yet seriously effective sales funnels that convert leads into sales.
✅ High Converting Opt-in Funnel Templates: Swipe and CLONE my high converting GroovePages funnel in a click of a button.
Sign up using the link below and you'll automatically receive the login details to access your extra bonuses bonuses.
GrooveSell Alternatives
There's quite a few alternatives to GrooveSell however none of them are really free and as powerful as GrooveSell.
The major players that have the same features as GrooveSell such as a shopping cart, upsell, down-sell, order bump feature, custom checkout forms and sale management system are as follows:
ClickBank
Thrivecart
SamCart
PayKickstart
JVZoo
To sell your products and services on ClickBank, there is a $49.95 activation, $1 + 7.5% transaction fee for each sale and $2.50 withdrawal fee.
To sell products using the Thrivecart software, it's a one time investment of $495.
SamCart has very similar features like GrooveSell however they charge $49 per month.
PayKickstart has the same features like GrooveSell but charge $99 per month.
To sell and list products on JVZoo, you're charged 5% commission on all sales and 2.5% for sales made through webinars.
GrooveSell DOES NOT add any additional processing fees or take a cut of your sales payment.
GrooveSell Frequent Asked Questions
Does GrooveSell support custom domains?
Yes, you can create a custom domain URL to brand your checkout links, order confirmation pages, affiliate links, tracking links, affiliate signup pages and more!
What the difference between GrooveSell & GrooveAffiliate?
Your free account comes with UNLIMITED access to GrooveSell. You create all the products and services you want to sell in GrooveSell and manage your affiliate program in GrooveAffiliate. However both apps are designed to work and communicate to each other.
Can I use PayPal, Stripe, Braintree or any specific payment gateways in GrooveSell and what are the fees?
You can integrate PayPal, Stripe, Braintree, AuthNet, NMI account, GroovePay and more payment gateways on the paid plans.
GrooveSell is totally free (at least for now) and does not add additional credit card processing fees.
What is GroovePay?
GroovePay is like Groove's own version of PayPal and stripe but with lower fees. This is Groove;s own payment gateway as processing payments is as low as 2.85% + 0.25% for USA.
There are No Application fees, No Monthly PCI Fees, No Monthly Statement Fees, No Annual Fees, No Minimum Monthly Processing Fees, No Cancellation Fees, Flat Rate Pricing.
Once you create your free account, click on the GrooveSell app and apply for GroovePay within the GrooveSell app.
What email marketing services and integrations does GrooveSell connect to?
ActiveCampaign, Aweber, CampaignMonitor, WebForm, Everwebinar, GetResponse, GotoWebinar, Leadlovers, Mailchimp, Mautic, Perkizilla, Pipedrive, ProductDyno, Sendiio, WebinarJams and Zapier. You can also use webhooks or embed forms to embed code from other software. More integrations are being added on a regular basis.
If your email marketing provider is not listed as an integration – copy your opt-in form code from your email marketing provider and embed it on GroovePages using the "code embed" element. I find that ActiveCampaign integrates with GrooveSell and GroovePages.
GrooveMail is already integrated in GrooveSell.
Can I add tracking like Google Analytics, FB Pixels and other conversion tracking codes on GrooveSell?
Yes, when you set up a product funnel inside of GrooveSell- you have the option to add your tracking codes under the "Custom CSS/Tracking scripts" in step 5 – checkout page.
Can I create coupon voucher or discounts?
Yes you can create a coupon code in GrooveSell for your products, services or online courses and assign a dollar discount or percentage discount off your product's price.
Can I create an affiliate program for my own products and services?
Yes, when you create a product funnel for each of your products and services – there is a step that asks you whether you want to create an affiliate program for a specific product.
You can create unlimited affiliate programs on GrooveSell and manage all your affiliates on GrooveAffiliate even on the free plan.
The benefits of this is that you can list your affiliate program on Groove's marketplace which is the equivalent of Clickbank.
Can I create create Joint Ventures or partnership contracts?
Yes within GrooveSell, you can create a Partner Contract with other Groove members by entering in their user id and assigning a percentage split of any of your product.
For example, let's say you have a main product and you want to partner up with another GrooveMember for an upsell product, create a partner contract in GrooveSell and assign a split for the upsell product only.
You're not just limited to one partner, along your journey you may meet several people that you want to have partnerships with.
Want To Increase Your Sales Funnels Conversions?
I recommend writing great copy with relevant CUSTOM graphics on your sales page.
In this day and age, people don't read long blocks of copy.
They're usually skimming and only stop scrolling when they see a compelling image.
You NEED unique custom 3d mockups, book covers, lead magnet images, online course mockups and funnel graphics to make your sales page convert.
I've always struggled with design and could not justify hiring expensive graphic designers.
Not anymore.
The banner below was created WITHOUT any design skills and under 60 seconds.
Just point-and-click, drag-and-drop, then export!
Click the banner to learn how you can create stunning 3D digital product mockups and sales funnel graphics without any design skills.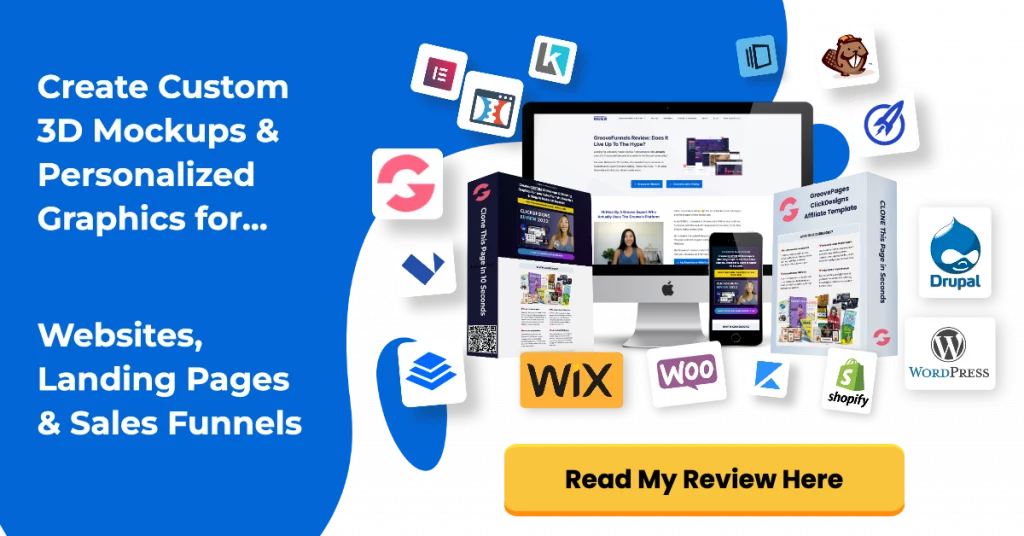 ---
GrooveSell Review Verdict by Aimee
GrooveSell is a no-brainer because it's Free for the full edition! It includes a Free shopping cart, sales and affiliate management platform with detailed reporting to track and manage your sales. Free for life and future upgrades. It beats paying for SamCart, ThriveCart and other paid shopping cart platforms which charge at least $99 per month.
Price: 0.00
Price Currency: $
Operating System: Web
Application Category: SaaS