What Is GrooveVideo?
GrooveVideo is a private video hosting platform for your online courses, membership sites and video sales letter. You can use interactive video elements to generate leads and engage visitors on GrooveVideo. Your free GrooveVideo account allows you to upload 15 videos for free.
If you like to upload more than 15 videos, the Groovefunnels platinum lifetime plan allows you to upload up to 100GB of video content and integrates with GrooveMember.
GrooveVideo Features
GrooveVideo lets you host your online course videos, membership content, video sales letters or any private videos with customizable control players and thumbnails.
It's like having your own Vimeo and Wistia within the Groove's eco-system.
1. Interactive Video Elements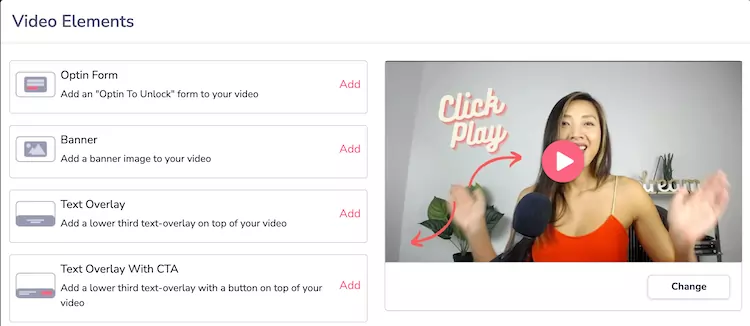 Here are the interactive video elements you can add to your videos:
Add opt-in forms to unlock your video – this adds an opt-in form to unlock the video before they get to watch your video.
Add banner images within your video – adds a banner image on the bottom right of your video and you can set the time at which it appears.
Add text overlay on top of your video – adds a lower third text overlay on top of your video.
Add a CTA banner within your video – add a lower third clickable call to action button that is linked to any URL you set.
2. Custom Thumbnails & Watermarks
You can upload your own custom thumbnails and watermark your videos.
Just select the position of where your water is to be displayed over your video.
3. Responsive Video Size & Video Settings
The following video settings are also available:
Show video player controls
Mute video on start
Autoplay video on load
Show play button and show play button on pause
Select play button styles from library or upload your own icon
Show play button animation style
Select play button icon size
4. Select Video Control Colors
If you have your own brand colors, changing the color is easy – just enter in the hex color code.
5. Video Storage & Video Encoder
If you're on the free plan and surpassed your 15 video limit, you can connect Amazon s3 and video encoders like coconut.co to upload more videos.
Once you upload your videos on GrooveVideo, you can copy the embed code and embed your video on any page.
Embed videos on GroovePages, WordPress or any page builder – literally any place.
You can share the video hosted page URL or share the source file URL so that people can download the mp4 file.
7. Video Analytics
GrooveVideo analytics show the following data:
Impressions
Unique views
Total video finishes
Total watch time in seconds
Date video uploaded
It's limited right now however more analytics will be added in 2022.
GrooveVideo Pros & Cons
Pros:
Free account members can upload up to 15 videos for free.
Great video elements to generate leads and engage viewers
A lot of video settings to choose from
Customization of colors and brand
Cons:
GrooveVideo Bonuses
✅ GrooveFunnels Quick-Start Training Course: Over 40 step-by-step bite size training that will save you a TONNE of time and frustration when learning a new software!
✅ Sales Funnels Planning Workbook: The PLAYBOOK to build simple yet seriously effective sales funnels that convert leads into sales.
✅ High Converting Opt-in Funnel Templates: Swipe and CLONE my high converting GroovePages funnel in a click of a button.
Sign up using the link below and you'll automatically receive the login details to access your extra bonuses bonuses.
GrooveVideo Frequent Asked Questions
What is the difference between Groove.cm / GrooveFunnels and GrooveVideo?
Groove.cm is the parent brand for all the groove apps – GrooveVideo is an app within Groove's platform. GrooveVideo is their video hosting platform similar to Vimeo and Wistia where you can host your videos privately.
Since GrooveVideo is as an app within the Groove CRM platform, please read my Groove lifetime review.
Can I embed GrooveVideos on any Page?
Yes, use the GrooveVideo embed code and embed the html code on any web page
Does GrooveVideo integrate with GroovePages
Yes, use the GrooveVideo element on GroovePages to embed your GrooveVideos
Does GrooveVideo integrate with GrooveMember
Not at this stage, you will need to use theGrooveVideo embed code and embed it on GrooveMember through an "code embed" element
Can I watermark my videos on GrooveVideo?
Yes, you can add any image and watermark your videos hosted on GrooveVideo
Can I add my own custom thumbnail on GrooveVideo?
Yes, you can design your own custom thumbnail image and upload it on GrooveVideo for each video
Are GrooveVideos size responsive?
Yes they are! You can set a fixed video size or responsive size.
Can I change the video control players on GrooveVideo
Yes, you decide to show the video control players ON or OFF and you can customize the color of the player.
Do I need to connect Amazon s3?
For free account members, you will need to connect your Amazon s3 however lifetime members won't need to add Amazon s3 accounts.
---
GrooveVideo Review Verdict by Aimee
Your Free GrooveFunnels account allows you to upload up to 15 videos for FREE (however you will need to connect an Amazon s3 account). The video elements within GrooveVideo are cool because you can add call to action buttons and opt-in forms within the video player itself. However, the biggest value of GrooveVideo is in the lifetime plan where can upload and host up to 100GB of video content.
Price: 0.00
Price Currency: $
Operating System: Web
Application Category: SaaS