What is GrooveBlog?
GrooveBlog is a light weight blogging platform that is suitable for anyone wanting to start a blog. It has the core blogging features of WordPress without plugins. You can get started for Free, connect your custom domain and save $220 in yearly hosting fees.
To create unlimited blogs, read my Groove Platinum lifetime review here to learn how you can get access to even more apps for lifetime access.
GrooveMail Features
GrooveBlog was released in February 2021 and is a great alternative to WordPress, Wix or Squarespace.
Here's a list of the GrooveBlog's best features and a description of each.
1. Clean Blogging Theme
I'll be honest here, GrooveBlog has only ONE theme but it's clean and simple.
Yes, WordPress has loads of themes and you can customize your blog's design to your heart's content.
But here's the catch, you end up spending so much time trying to make everything look good without doing the thing that matters the most….
Writing content.
Quality content that brings in traffic to your website.
Having said that by choosing beautiful images as feature post images, you can make your blog look clean and beautiful.
Don't worry, GrooveBlog will be adding more themes in the future.
2. Easy Blog Post Creation
Creating a blog post in GrooveBlog is easy.
Just click on "New Post" button and it will load a blog post editor just like WordPress.
3. On Page SEO
GrooveBlog will allow you to perform all your on-page SEO needs.
Here are some of the On-page optimisation you can perform on GroovePages:
Site name – available in search settings
Favicon – add an icon to your blog
Page Meta title – in blog post settings
Page URL – controlled in post tags
Meta keywords – add target keywords to blog post
Meta description – add the description for blog posts
Open Graph – control the title and description to share on social platforms
H1, H2, H3 headings are available by highlighting a text and select the heading.
Images optimization – at the moment there are no "alt tags" available for images
4. Free Hosting
GrooveBlog comes with free hosting and that will save you around $220 per year.
5. Custom Domain & SSL
You can connect your custom domain under settings.
Click on the domains tab
Select "Publish to root domain"
Choose your domain from the drop down
Click save
Once you publish your custom domain, SSL certificate is automatically installed.
6. Embed Ads, AdSense or MediaVine
If you like to monetize your blog with ads from Google Adsense or MediaVine, there is an option to add your code in GrooveBlog.
7. Google Analytics & Tracking Pixels
To add your Google Analytics or any Facebook ad pixels, you will also find this in settings.
Locate the "Tracking & Pixels" tab and add the Global site tag provided by Google Analytics in the head section of your website.
8. Open Graph
You can customize your open graph title, description and image in the "settings" of GrooveBlog.
Or at the post level for further customization.
9. Mobile Friendly
Last but not least, Grooveblog has a responsive design and mobile friendly.
This is automatically applied, no configurations required.
GrooveBlog Pros & Cons
Pros:
Clean and user friendly interface
Free lifetime hosting
Custom domain name for branding
Fast web page loading speeds
Embed ad tracking for monetization
Embed Google analytics and Facebook ad pixels
Can disable side bar widgets
Can rank keywords on Google
Create Unlimited GrooveBlog on the lifetime plan
More SEO features being added over the coming months.
Cons:
Only one blog theme
No pages template
No sitemap or RSS feeds
No plugins (although this can be a pro as too many plugins will slow down your blog)
GrooveBlog Vs WordPress
WordPress has been around since 2003 and is much more mature than GrooveBlog.
This gives it a competitive edge, more time to develop the platform and user interface.
One of the significant differences between GrooveBlog vs WordPress is that you don't have to purchase hosting and install the WordPress application if you want to connect to your own custom domain.
Which means you save on yearly hosting fees as one GrooveBlog is included in your free account.
Another reason to like GrooveBlog is that it loads fairly fast with a page speed of 260 milli seconds according to Pingdom.
That's less than 350 milliseconds (that's less than 1 second)!
When you're on WordPress, shared hosting may give you a slower page speed as people tend to go with the lowest priced hosting plans.
With GrooveBlog, hosting is provided for you free of charge.
However if you're intending to drive organic search traffic through SEO and content marketing, GrooveBlog may lack in this area.
If we compare SEO Features, WordPress would be a better choice as there are plugins available that help with the SEO side and flexibility in planning our your site architecture.
However, GrooveBlog is evolving to add the features that you see within WordPress in the near future.
GrooveBlog Use Cases
Personally, I see GrooveBlog as a great way to syndicate your existing content especially when you have an authority website on WordPress and want to build web 2.0 backlinks.
I would use GrooveBlog and GroovePages to start fresh on new smaller niche sites and keep using WordPress for older established websites.
If you're not a writer and building your audience on a social platforms like Youtube and Facebook, GrooveBlog is a great way to update your audience in text version.
GrooveBlog Tutorial & Demo
Learning how to use GrooveBlog is simple and not complicated at all.
When you create a new GrooveBlog, it comes with demo content installation and all you need to do is make a few edits to customize it.
Watch the video below to see my GrooveBlog tutorial setup and first impressions.
Want To Get More Clicks To Your Blog Posts?
I recommend using CUSTOM graphics instead of stock photos on your social media posts .
You NEED unique custom 3d mockups, book covers, lead magnet images, online course mockups and funnel graphics to get people's attention.
I've always struggled with design and could not justify hiring expensive graphic designers.
Not anymore.
The banner below was created WITHOUT any design skills and under 60 seconds.
Just point-and-click, drag-and-drop, then export!
Click the banner to learn how you can create stunning 3D digital product mockups, social media graphics and funnel graphics without any design skills.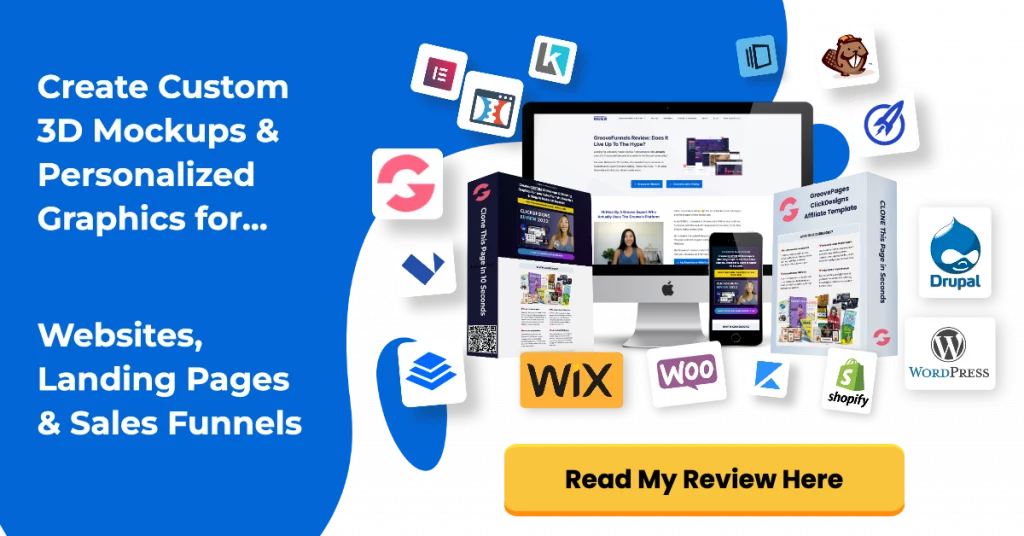 GrooveBlog Bonuses
✅ GrooveFunnels Quick-Start Training Course: Over 40+ step-by-step bite size training that will save you a TONNE of time and frustration on GrooveFunnels.
✅ Sales Funnels Planning Workbook: The PLAYBOOK to build simple yet seriously effective sales funnels that convert leads into sales.
✅ High Converting Opt-in Funnel Templates: Swipe and CLONE my high converting GroovePages funnel in a click of a button.
Sign up using the link below and you'll automatically receive the login details to access your extra bonuses bonuses.
GrooveBlog Frequent Asked Questions
Should I move my WordPress Blog to GrooveBlog?
For the time being, GrooveBlog is ideal for those who want to start a niche blog without a huge focus on SEO.
If your website is on WordPress with high domain authority, rely on SEO for traffic and have pages ranking in Google, keep using WordPress.
You can consider using GrooveBlog is a web 2.0 content syndication platform and also build backlinks :)
How many blog themes does GrooveBlog Have?
One theme for now however it's highly customizable with custom colors selection.
How many blogs can I create on the Free Groove Account?
One GrooveBlog on the free account but unlimited blogs on their paid plans
How many blogs can I create on Groove's Premium_ Lifetime Plan?
Is GrooveBlog good for SEO & Ranking on Google?
Yes, however you will have a much better chance ranking long tail keywords with low competition. For all GrooveBlog SEO and ranking questions, I've answered them in this post.
---
GrooveBlog Review Verdict by Aimee
GrooveBlog is a light version of WordPress. It's not comparable to WordPress yet but is scheduled for massive updates in terms of blog themes, customisation and SEO features. It's worth a go because you can create 1 free blog, connect your custom domain and FREE hosting!
Price: 0.00
Price Currency: $
Operating System: Web
Application Category: SaaS